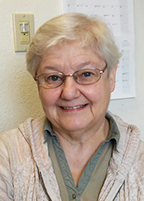 Elizabeth Robertson, associate professor of English at Drake University, was recently selected as the recipient of a Fulbright U.S. Scholar Grant. Robertson will be teaching English in Burkina Faso for the 2016-2017 academic year.
Robertson will teach a range of courses in Anglophone literature at the Universite de Ouagadougou in the city of Ouagadougou, the capital of Burkina Faso. Robertson will teach courses in 19th-20th century British literature, American literature from the origin to the 19th century, great figures in American literature, and literary theory and criticism. She also plans to work with graduate students on their master's degree theses at the University.
Robertson has lived, taught, and studied in a number of different African countries during her career, beginning in east Africa and Ethiopia in 1973. She first visited West Africa in 2000, when teaching in Benin as part of a previous Fulbright award.
"A Fulbright scholar is expected to be a cultural ambassador of sorts for the United States," said Robertson. "Though teaching for a year or two may not make a great deal of difference in the larger culture, I believe it might make a difference in some individual lives who then could make a difference in their own country—I believe and hope that was the case for students I worked with in Benin."
Robertson's interest in east and West Africa is focused on colonial and post-colonial literature, particularly travel writers from the 18th and 19th centuries. The opportunity to return to West Africa also gives Robertson the opportunity to continue writing non-fiction essays drawing on experience from her own travels to former colonial sites in combination with post-colonial theory and criticism.
"I became interested in Burkina because of having several students and friends from that country in Benin, and I am expecting a similar level of intensity and involvement from myself and from both students and faculty colleagues," said Robertson.
At Drake, Robertson teaches writing and linguistic courses, as well as courses on English texts and myth and archetype. She directed the Writing Workshop in Cowles Library for more than 20 years and has served as chair of the English department. She expects to depart for Burkina Faso in late August or early September.