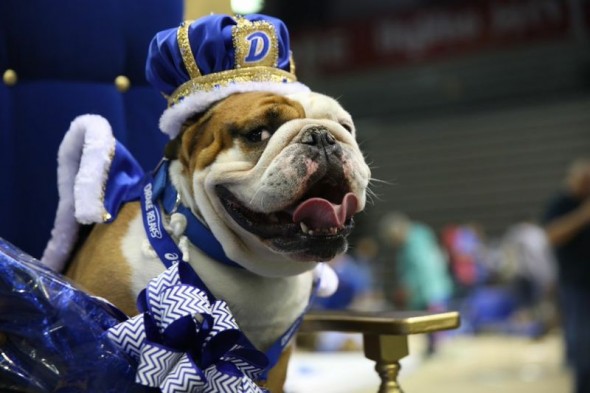 Forget your daily dose of cuteness—Drake University's Beautiful Bulldog Contest has enough to carry you through a whole year. The world-famous, 37th annual contest will serve as the official kickoff to Drake Relays Week on Sunday, April 24.
From a field of over 80 English bulldogs, 50 have been selected to compete in this year's contest, with seven standing by as alternates. Competitors are travelling from six U.S. states to compete for the honor of becoming the official mascot of the 2016 Drake Relays.
The pageant begins at 1 p.m. and is preceded by a rescue dog festival and pet food drive at noon in the Drake University Knapp Center, 2525 Forest Ave. Admission is free. The contest will also be streamed live online at alumni.drake.edu/beautifulbulldog.
The Contestants
34th Annual Beautiful Bulldog Contest
Sunday, April 24
The Knapp Center, 2525 Forest Ave.
Rescue dog festival at noon
Pageant at 1 p.m.
Free and open to the public. Watch online at alumni.drake.edu/beautifulbulldog.
Last year two-year-old Tank won judges' hearts with his sturdy frame, gentle demeanor, and camouflage attire, winning top honors over drooling divas dressed in tutus, clown suits, ladybug outfits, and scuba gear.
But this year is a whole new ball game, and the distinguished panel of judges—Drake University President Marty Martin, Student Body President Kevin Maisto, Director of Athletics Sandy Hatfield Clubb, WHO-TV Anchor Erin Kiernan, and Des Moines Radio Group Morning Show Producer Kurt Van Auken—will have their hands full choosing a winner.
Several contestants already boast extraordinary accomplishments:
Deliylah, a contender in 2013 and 2014, was sidelined last year because she gave birth to four puppies on the day of the contest. Deliylah and three of her puppies—Daffodil, Vinny, and Hank—will compete this year.
Theodore has over 6,000 followers on Instagram @theodore_r_bulldog
Big Lou has overcome spina bifida and is now able to run and walk
Leopoldo Arellano is bilingual, recognizing words in both English and Spanish
Sugar Blossom can give kisses and high fives on demand, and worked at a kissing booth for her rescue group for several years
Sir Winford James is a rescue ambassador for other pups, and is working to become a certified therapy dog.
Rescue Organizations
Notably, 13 rescue bulldogs are part of the pack hoping for the contest's signature throne, cape and crown. Ten organizations will participate in the rescue dog festival prior to the pageant, including seven rescue organizations; The Fence Project Des Moines, which improves the outdoor living habitats of dogs in Greater Des Moines; the Bulldog Club of Central Iowa; and The Pet Project Midwest, which hosts proactive programming to keep pets with the people who love them. Attendees are invited to donate canned or dry adult dog food at a pet food drive to benefit The Pet Project Midwest.
Special Adoption Event
Whoever walks away the champion, at least one pooch will receive the greatest reward of all: a permanent home. Marley, a cuddly canine born on April Fool's Day 2013 and surrendered to the Kansas City English Bulldog Rescue as a puppy, will be united for the first time with her adoptive "forever family" prior to the contest.
More information
To meet all 50 of the contests for the 37th Annual Beautiful Bulldog Contest, visit https://www.facebook.com/media/set/?set=a.10154039237619469.1073741839.7749659468&type=3
For more information, and to view a live stream of the pageant on Sunday, April 24, visit https://alumni.drake.edu/BeautifulBulldog