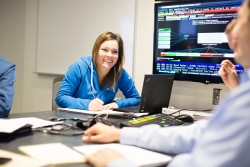 The Drake University College of Business and Public Administration is launching a significantly enhanced Master of Business Administration (M.B.A.) program designed to better meet the needs of today's working students.
Beginning this fall, classes within the M.B.A. program will be offered in a hybrid model—the only one of its kind in central Iowa—that blends the convenience of online coursework with the benefits of intensive classroom experience. About half of course time will be completed online, with the other half completed on Drake's campus.
The enhanced M.B.A. program also includes significant curriculum updates. The program emphasizes real-world application of business analytics through a core course called Leading with Data. In addition, students will partner with a Des Moines-area business or nonprofit organization during a course on project management.
The flexibility of Drake's new hybrid model, the only one of its kind in Iowa, allows working adults to earn a degree without sacrificing quality for convenience or personal life for professional development.
"Today's graduate students are stretched thin, with hectic professional and personal lives," said Danette Kenne, assistant dean of the College of Business and Public Administration. "They value an academic experience that's as flexible as they are, with the freedom to complete coursework from anywhere—at home, on the bus, at the doctor's office. At the same time, students still appreciate the unparalleled value of personal engagement in the classroom with expert faculty and peers from myriad professional fields. Drake's new hybrid delivery model provides an integrated academic experience that no other college or university in the Des Moines metro can offer."
Students in Drake's hybrid M.B.A. program have the opportunity to:
Apply business analytics to become a strategic leader
Acquire and hone sought-after project management skills
Connect with Des Moines business leaders as a core part of the learning experience
Customize their M.B.A. with a specialization that fits their career interests
Develop leadership skills in courses focused on expanding business acumen
The M.B.A. program revisions will be adopted in Fall 2016. Students who are currently enrolled in the M.B.A. program will have the option of pursuing the new classroom model and curriculum requirements or completing their degree under the previous format and requirements.
Current Drake M.B.A. student Eric Land has been pursuing his degree, one course at a time, since 2013. As a married father of three with a full-time job as senior analyst for a Des Moines-based real estate brokerage, Land says the hybrid M.B.A. format will make it much more convenient for students that also work full time.
"My wife and I sometime work opposite schedules, which makes it even tougher to juggle the M.B.A. workload against parenting and a full-time job," Land said. "I was able to take a couple of online classes—I'm kind of jealous of incoming students who will get that 'best of both worlds' experience, in classroom and online, for their entire M.B.A. experience."
Drake's M.B.A. is not only valuable, it's also affordable, with total program costs comparable to or less than the cost of any other M.B.A. program offered in Des Moines. The program can be completed in two years. Degree-holders gain access to Drake University's vast network of graduate alumni, who work in more than 200 companies across Iowa.
More information is available online at www.drake.edu/mba, or by contacting Dianna Gray, outreach coordinator for Drake University's College of Business and Public Administration, at 515-271-3921 or dianna.gray@drake.edu.