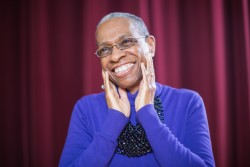 Pyramid Theatre Company, founded by four Drake University alumni, announced today that the first production of its inaugural season will be staged on campus. The new theatre company will open with A Raisin in the Sun by Lorraine Hansberry, running July 8–17 at Drake University's Fine Arts Center in the Performing Arts Hall, 2505 Carpenter Ave. Wanda Everage, LA'72, Drake's retired vice provost for student affairs and academic excellence, has been cast in the role of Lena Younger (Mama).
Pyramid Theatre Company was founded by Ken-Matt Martin, AS'12, JO'12; Alexis Davis, JO'13; Freddie Fulton, AS'13; and Nana Coleman BN'13. The Chairman of Pyramid Theatre Company's Board of Directors is Renee Hardman BN'83. While not a familiar face on local stages, countless Drake alumni and friends will recognize Everage from her 24-year career at the University.
"I met Dr. Everage nine years ago on the steps of Cowles Library and she very quickly became not only a beloved mentor but a friend," said Martin. "Most people don't know that Wanda actually made her acting debut in 2012 when she appeared in my senior capstone workshop production of August Wilson's Gem of the Ocean. I knew she was ready for this at that time."
Martin described Everage as a maternal figure when she was at Drake, to him and many other students. "It is truly a full circle moment to see her return to Drake in this capacity playing a maternal figure."
Everage said she's glad to step out of retirement for her new adventure as a thespian.
"This is definitely something new for me, but I am excited about the challenge. I spent my entire career telling students to get out of their comfort zone and now I am ready to get out of mine," she said.
Everage described working with Drake alumni on this project as a culmination of her career seeing young people take charge to tell stories on their own terms. "I get to take part of what I have aspired to for them all these years," she said. "I love the role reversal: I am now the student and Ken-Matt is the instructor!"
Pyramid Theater Company will continue its season with a developmental production of the new play Hooded or Being Black for Dummies by Tearrance A. Chisholm at the Des Moines Social Club's Kum and Go Theater, 901 Cherry St., from July 21–31. The production will serve as an out-of-town tryout for the playwright before a new production premieres at Mosaic Theatre Company in Washington, D.C. Current Drake students Eric Deutz, Molly Mayne, and Isabella Taylor will appear in the Des Moines production. More information about Pyramid Theater company, its performances, and ticket information can be found at www.pyramidtheatre.com.
About Pyramid Theatre Company
Pyramid Theatre Company's mission is to provide a gateway to the arts for the Des Moines community by illuminating the presence of Black artists in the theatre canon and provide a means of artistic expression to emerging Black voices. The company commits itself to the tenet of Sankofa, a word in the Akan language of Ghana meaning "return to retrieve." With this in mind, PTC will offer works firmly rooted in the lessons of the past in order to serve needs of the present.
Synopsis: A Raisin in the Sun
Set on Chicago's South Side, the A Raisin in the Sun revolves around the divergent dreams and conflicts within three generations of the Younger family: son Walter Lee, his wife Ruth, his sister Beneatha, his son Travis and matriarch Lena. When her deceased husband's insurance money comes through, Mama Lena dreams of moving to a new home and a better neighborhood in Chicago. Walter Lee, a chauffeur, has other plans, however: buying a liquor store and being his own man. Beneatha dreams of medical school. The tensions and prejudice they face form this seminal American drama. Sacrifice, trust and love among the Younger family and their heroic struggle to retain dignity in a harsh and changing world is a searing and timeless document of hope and inspiration.