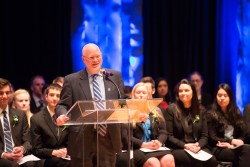 Drake University's College of Business and Public Administration hosted their annual awards ceremony Wednesday, April 6. Nearly 800 people attended the event, which honors students, faculty, and community leaders.
Dave Schulte, BN'83, was the ceremony's keynote speaker and recipient of the CBPA Community Leadership Award. Schulte is CEO, president, and director of CorEnergy Infrastructure Trust, located in Kansas City. He has served on Drake's National Alumni Board from 2009 to 2012 and has served as the CBPA's Executive in Residence, providing advice and mentorship to students. His assistance has also resulted in the development of two CBPA courses, Professional Speaking and Professional Writing.
The ceremony recognized dozens of students for their accomplishments in academics, leadership, and community involvement. Fourteen seniors were honored for maintaining a perfect 4.0 grade-point average throughout their academic career.  Two students were awarded the highest honors of junior and senior student of the year.
Jamie Zane was chosen as the CBPA Junior Student of the Year. Zaine is a junior majoring in finance with a Spanish minor. She has interned with Prime Therapeutics and holds leadership positions in Alpha Kappa Psi and CBPA Ambassadors, a group that provides CBPA students the opportunity to interact with high school students interested in the CBPA for their college education.
Emily Enquist was selected as the CBPA Senior Student of the Year. Enquist will graduate this May with a double major in international business and anthropology. She serves as undergraduate student assistant for Drake Administered Programs Abroad, and has had international experiences in Uganda, Finland, and Argentina. She is the recipient of a post-graduation Fulbright Grant to teach in Bulgaria.
Numerous faculty members were honored for their hard work for the CBPA and Drake community. Highlights included top honors for undergraduate teaching, graduate-level teaching, and research.
Rick Long, assistant professor of practice in finance, was selected as the David B. Lawrence Outstanding Undergraduate Teacher of the Year. Long joined the CBPA in August 2010 after working for The Principal Financial Group and Aviva Investors North America. Within the college, he has taught a variety of finance courses at both the undergraduate and graduate level.
Allen Zagoren, associate professor of practice in public administration, received the Outstanding Graduate Teaching Award. He joined the CBPA in September 2005. He continues to serve as Medical Director of Unity Point's Wound Center, and has had a lengthy career in trauma surgery and interventional nutrition.
Ken Meyer, Thomas F. Sheehan Distinguished Professor of Public Administration, was the winner of the Harry Wolk Research Award. He joined Drake University in August 1990 and has taught a wide variety of graduate courses within the college, especially within the public administration arena. He is a prolific researcher and author of hundreds of published works in journals across the academic and business landscape. In addition, he speaks at conferences around the world and mentors a number of high-profile senior business executives.
For more information, contact Annette Watson at annette.watson@drake.edu or 515-271-4715.