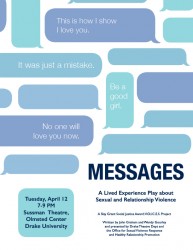 As part of Sexual Assault Awareness Month, Drake University will host "Messages: A Lived Experience Play about Sexual and Relationship Violence." The performance is scheduled for 7 p.m. Tuesday, April 12, in Sussman Theater in the lower level of the Olmsted Center, 2875 University Avenue. The event is free and open to the public.
The play is co-written by John Graham, chair of Drake's acting program, and Salt Lake City-based playwright Wendy Gourley, based on interviews with survivors from the Des Moines area and throughout Iowa who had experienced sexual or relationship violence. Drake students conducted the interviews, with training from Graham and Alysa Mozak, coordinator for Drake's Office for Sexual Violence Response and Healthy Relationship Promotion. Graham and Gourley found that five of the stories fit together well, and combined them to create the performance.
Graham says there is a narrative that connects the five experiences chronicled in the play, and that all of the stories overlap and intertwine. The play will also contain several multimedia elements, including music videos and advertisements, to further highlight the overall message.
"I first had this idea several years ago as I saw my friends and loved ones struggling with the after effects of sexual violence, but saw no real discussion about the topic," said Graham. "It seemed as though survivors of sexual violence were being shamed into silence, as if their experiences, being sexual, were taboo. So I saw people feeling real pain, but being unable to express that pain in public, being unable to give voice to their experiences."
Graham and Gourley have worked together before, though this is the first play that the two have co-written. In the past, Graham has directed Gourley and worked on other plays that she has written.
The performance is presented by the Drake University Theatre Arts department and co-sponsored by the Slay Fund for Social Justice and the Office for Sexual Violence Response and Healthy Relationship Promotion. The office's director, Alysa Mozak, encouraged students and community members to attend this free event.
"It's important that we break the silence around sexual and relationship violence," Mozak said. "This is an excellent opportunity to show our solidarity and support for survivors of violent crimes."
The play contains sensitive material about sexual assault and relationship violence that may be triggering to survivors. Confidential, trained advocates will be present at the performance for anyone who would like support in processing the content of the play.