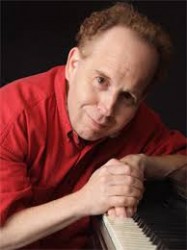 Daniel Shapiro will present the next concert in Drake University's Keys to Excellence Piano Series. The concert is free and open to the public and begins at 7:30 p.m. Monday, April 18 in Sheslow Auditorium, 2507 University Ave. The concert features the following:
Toccata in f-sharp minor – J.S. Bach
Sonata in G Major, Op. 31, No. 1 – Beethoven
Fantasie, Op. 17 – Schumann
Shapiro will present a masterclass for piano students at 2 p.m. Sunday, April 17, in Sheslow Auditorium. This event is free and open to the public.
Shapiro continues to gain recognition as a leading interpreter of Schubert, Mozart, Schumann, Brahms, and Beethoven, and as a teacher and coach at the Cleveland Institute of Music. He has given critically acclaimed recitals and concerto appearances across the United States and in Brazil, Europe, Korea, and China. He has twice performed Beethoven's 32-sonata cycle, and his CD of Beethoven's "Diabelli" Variations and DVDs of Schubert sonatas have received enthusiastic reviews. He was a top prize winner of the William Kapell International Piano Competition, and also won the American Pianists' Association Beethoven Fellowship Award. He has given masterclasses in several of the leading conservatories of Korea, China and Hong Kong, and has also taught at many summer music festivals across the U.S., Canada and Italy.
As a chamber musician, Shapiro has performed regularly with members of the Los Angeles Philharmonic, the Chicago Symphony and Cleveland Orchestras. He has also performed with the Cavani, Mirò, and Linden Quartets, and has released chamber music CDs on the Harmonia Mundi and ASV labels.
His musical scope has also included the study of conducting; he studied with Daniel Lewis, Victor Yampolsky, Fritz Zweig, and Gustav Meier. He made his conducting debut at 16 years old at Tanglewood, and conducted Mozart's Don Giovanni with the Akron Lyric Opera.
His musicianship has also been enhanced and deepened by extensive collaboration with singers: listening to and working with them has been a source of tremendous inspiration. He studied art song with Gwendolyn Koldofsky and opera with Natalie Limonick, and was an opera and art song coach at UCLA.
The Keys to Excellence concert series was created to raise awareness of Drake's fundraising efforts for the purchase of 70 brand new Yamaha pianos for the music department. It brings internationally acclaimed artists to perform on the Yamaha CFX concert grand at Drake University.
The series is sponsored by Yamaha, West Music, Civic Music Association, and Drake University. For more information, contact Nicholas Roth at 515-321-5947 or nicholas.roth@drake.edu
Keys to Excellence Piano Concert Series 2015-2016:
 Monday, Oct. 26: Francine Kay – Princeton University
Monday, Nov. 30: Nicholas Roth – Drake University
Monday, Feb. 8: Nicholas Phillips – University of Wisconsin Eau Claire
Monday, March 28: Ani Gogova
Monday, April 18: Daniel Shapiro – Cleveland Institute of Music.
All performances begin at 7:30 p.m. in Sheslow Auditorium and are free and open to the public.