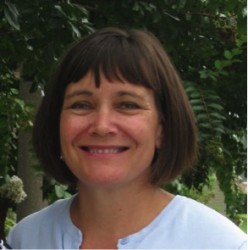 Graduate student Susan Myers recently received a scholarship from the North American Society of Adlerian Psychology (NASAP) to attend an annual conference in Minneapolis, Minnesota. The conference begins Thursday, May 12, and ends Sunday, May 15. Myers will also present a poster session, titled "Lost and Found: From Dislocation to Connection in Recovery: All Signs Lead to PERMA," on the final day of the conference.
Myers is a student in the School of Education's Clinical Mental Health Counseling Program, and learned about the conference and scholarship from Bengu Tekinalp, associate professor of education.
"I've learned about Adlerian psychology through several classes, and especially through the passion for Adlerian psychology of [Professor Tekinalp]," said Myers. "To me, she embodies the positive qualities of the Adlerian approach to mental health therapy. She is encouraging and has a way of calling her students to grow professionally and personally to reach our potential."
Adlerian psychology follows the belief that individuals have the answers to their own dilemmas, and considers clients as whole people who have become discouraged. NASAP's annual conference provides a forum for mental health, rehabilitation, school counseling practitioners as well as researchers, parenting educators, and organizational psychologists meet to share best practices in their fields and research results.
"This conference will allow Susan to learn from the leaders in the profession, to connect with like-minded professionals, and build her network," Tekinalp said. "Susan has a strong desire to learn and also to contribute to the field. Attending this conference will be a great learning experience."
Myers' scholarship from NASAP will cover the cost of registration and meals during the four-day conference.
"This conference will provide many opportunities to learn therapeutic skills and approaches to working with individuals and groups in treatment for addiction and mental health problems," said Myers. "I am intrigued by the Adlerian approach to treatment, with its emphasis on recovery in the context of building social connections and enriching the treatment, living, working and community environment in which we live."
Myers currently works as an outpatient substance use disorder counselor at United Community Services, a non-profit outpatient substance use disorder treatment clinic. Myers is a Certified Alcohol and Drug Counselor through the Iowa Board of Certification, and will apply in May to become an International Alcohol and Drug Counselor.