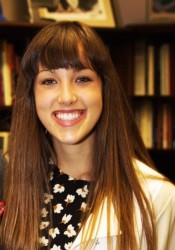 Madison Thompson graduated from Drake in 2014 with a Bachelor of Science in Business Administration in Marketing and a concentration in Information Systems. During her time at Drake, she was involved in the American Marketing Association and Leadership Council as well as won awards for outstanding community service and leadership excellence. Madison is currently an event manager at Firewood Marketing, a business of dedicated individuals that assists companies in their marketing efforts with strategic planning, digital marketing, and creative services. She currently lives and works in San Francisco, Calif., while also writing articles for the online publication Career Contessa. The CBPA had a chance to talk with her about her career and memories of Drake.
How did you initially get involved with Firewood Marketing?
It is quite a long story, but while I was searching for a job in San Francisco, I spent a lot of time networking. I ended up connecting with someone on LinkedIn who I met in person when I made a trip to San Francisco for job interviews. He connected me to Firewood Marketing. I did a video call with my current boss and everything fell into place after that.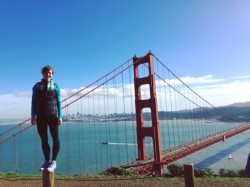 Did you always know you wanted to work in San Francisco, Calif.? What is living and working in San Francisco like?
Not at all! For the longest time I thought NYC was where I wanted to live when I graduated. After I interned in Seattle and did some additional traveling, I realized what was most important to me. All of those items led me to San Francisco. At first, I was looking for jobs in 5 different cities, and I had a meeting with [Randy Blum, assistant dean, undergraduate student services] where he told me to pick a city and dedicate all my time and energy into those options. That was some of the best advice I have ever received because I absolutely love this city. Living and working in San Francisco is exceptionally different than the life I was used to in the Midwest. There are no seasons, there are constantly events to attend, and the activities around the Bay Area are endless.
What does a 'day in the life of Madison Thompson' look like? What do you do on a daily basis as an event manager?
One of my favorite aspects of my job is that no day is the same as the last. Things are always different, where I am working changes throughout the week, and who I interact with varies as well. I spend time in meetings, doing video calls, as well as working independently to complete my responsibilities. It is a lot of constant communication and emails. I have fantastic flexibility due to technology which allows me to work from San Francisco or in the Google headquarters in Mountain View. I am also quite fortunate to travel on occasion for my job and attend the events I plan.
How did you get involved with Career Contessa? Tell me more about the work you do there.
While I was on the job search, I connected with the CEO of Career Contessa. We spoke on the phone and she gave me valuable advice. Once I received my job we connected again and she asked if I would be a contributor for Career Contessa and share my story. Since then, I have written two articles for the online publication. I hope to write more in the future when I have topics I believe will inspire others!