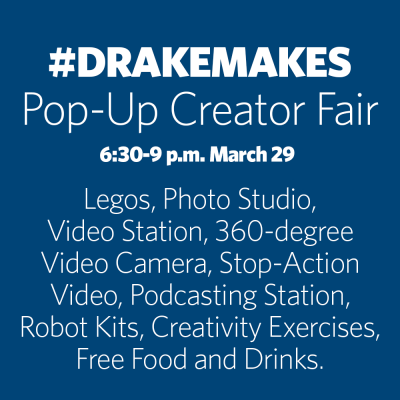 Pop-up creative space Tuesday night
Room 201 in the library is being transformed into a pop-up maker space on Tuesday night 6:30 to 9 p.m.
Students will have an opportunity to create videos, explore podcasting, play with Legos, make stop-motion videos, use a photo studio and more. Several SJMC students will be running creative stations at the event. RSVP on the Facebook event page.
Join the SJMC bus trip to Minneapolis
Want to learn more about communications careers in the Minneapolis area? The SJMC annual bus trip is headed north for agency tours, corporate visits and networking with SJMC alums on Sunday, April 3 and Monday, April 4. The cost is $125 per student, covering hotel, bus and several meals. Interested? Contact Shari Tenney (shari.tenney@drake.edu or 515-271-3194) to reserve your spot.
Celebrate the launch of Urban Plains
Urban Plains, the senior journalism capstone, is throwing a party to celebrate the launch of the spring 2016 site. Join students, alumni, faculty and local professionals at the Des Moines Social Club April 6, from 6 to 8 p.m.
Smartphone video workshop is April 13
Professor Chris Snider will be teaching a smartphone video workshop on April 13 from 5:30 to 9 p.m. in Meredith 124B. Come learn the basics of shooting great video and test out some accessories to make your smartphone a more powerful video tool. See all the details here.
Tune in to the Drake Relays broadcast
Drake Broadcasting System will be airing coverage of the Drake Relays on The College Channel and 94.1 The Dog this year. If you can't make it to the event, tune in from home!
Friday, April 29: 10 a.m. to 2:30 p.m.
Saturday, April 30: 9 a.m. to 1 p.m.
Paukert selected for NAB team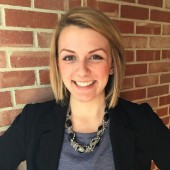 Broadcast news senior Brenna Paukert has been selected as an anchor for the production team providing live broadcast coverage of the 2016 NAB Show's StudioXperience in Las Vegas April 16-22. The NAB Show is the largest gathering of media and entertainment professionals in the world, drawing over 100,000 attendees.
SJMC to host pollster extraordinaire Ann Selzer
J. Ann Selzer, president of the nationally respected public opinion research firm Selzer & Company, will discuss the roller coaster presidential campaign at Drake on Tuesday, April 5, at 7 p.m. in the Cowles Reading Room. Selzer will discuss the role of polling in the race, and there will be plenty of opportunity for audience questions. The event is free and open to the public. The conversation will be facilitated by SJMC professor Jennifer Glover Konfrst, who heads our new Strategic Political Communication major, and it is co-sponsored by Drake's new Data Analytics program.
Drake alumnus named Young Professional of the Year
The Des Moines Young Professionals Connection and Juice magazine have named SJMC alumnus Jonathan Brendemuehl their young professional of the year. Brendemuehl, a 2008 graduate, is the communications manager for Des Moines Performing Arts. He also earned his MPA from Drake in 2010.
Apply to be on the Times-Delphic staff
If you want experience in a newsroom, consider applying to be on staff of the Times-Delphic. Edit stories, design layout, manage ads, get web experience and do much more. Fill out the application, and contact jessica.lynk@drake.edu with any questions!
Register for the Relays LGBTQ brunch
Join fellow LGBTQ alumni and students for a Relays brunch April 30. Free for students; $10 for alumni.