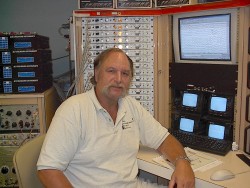 William Klipec, associate professor of psychology, recently published a research manuscript that has implications for the treatment of cocaine addiction.
The article published in Behavioural Brain Research is titled "Loss of the trpc4 gene is associated with a reduction in cocaine self-administration and reduced spontaneous ventral tegmental area dopamine neuronal activity, without deficits in learning for natural rewards."
The research was conducted in collaboration with the neuroscience program at The University of St. Thomas, The Institute for Behavioral Genetics at the University of Colorado-Boulder, and Transposagen Biopharmaceuticals, Inc., in Lexington, Ken. The paper represents four years of extensive research on the anatomical distribution as well as cellular and behavioral function of canonical transient receptor potential channel (TRPC4) in the mammalian brain.
"The TRPC4 protein is an important intracellular mechanism that regulates the excitability of neurons," Klipec said. "Our major finding was that rats that are missing this protein in brain dopamine pathways related to addiction, show reduced self-administration of cocaine without global changes in behavior controlled by natural rewards such as food and water. This suggests the possibility of drug development that targets the TRPC4 protein as a treatment for cocaine addiction as well as a variety of dopamine disorders, without impairment of learning and performance in non-drug related behaviors."
The paper's authors were William D. Klipec, Ph.D.; Kristin R. Burrow, MA; Casey O'Neill, Ph.D.; Jun-li Cao, Ph.D.; Chloe R. Lawyer, BS; Eric Ostertag, MD. Ph.D; Melissa Fowler, Ph.D.; Ryan K Bachtell, Ph.D.; Kurt R Illig, Ph.D.; Donald C. Cooper, Ph.D.