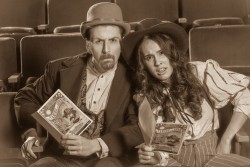 In the midst of the spring semester, the Drake University Theatre Department is proud to present an adaptation of Shakespeare's classic battle of the sexes, The Taming of the Shrew.
The first showing will be 7:30 p.m. Thursday, March 31. Three more performances will follow, beginning at 7:30 p.m. Friday, April 1; 7:30 p.m. Saturday, April 2; and 2 p.m. Sunday, April 3. All shows will take place in the Performing Arts Hall of the Harmon Fine Arts Center, 2505 Carpenter Avenue.
Despite being a Shakespearian classic, Drake's Theatre Department is presenting an adaptation unlike what audience members might be familiar with. It features a variety of changes brought forth collaboratively by director Michael Rothmayer, associate professor of theatre arts, as well as his team of designers. Instead of Padua, Italy, this story of Petruchio and Katherine takes place in the 1880's Wild West. The show also breaks tradition by featuring more roles for women as the result of gender-bending a few characters.
"Every director has a list of plays they want to direct," Rothmayer said. "As far as Shakespeare is concerned, this has been on my list for a long time. It gave me the opportunity to work with the idea of a traveling group of players, since the text is primarily a play within a play. Most of the action we see on stage in The Taming of the Shrew is actually intended to be a theatrical performance set up at the beginning of the show."
Not only has this unlikely love story been a favorite of this director, but it has sparked the interest of many students as well.
"The process as a whole has been a huge challenge for me," said junior acting major Jasen Emamian, who plays Petruchio, the male lead and suitor of Katherine. "The show itself is physically and mentally demanding. The way that we are doing it creates multiple layers for every character. For me specifically, I have Jasen the actor, playing the 2nd player, who is playing Petruchio, who is portraying himself at times as a loving husband and at times a crazed maniac."
Isabella Taylor, a junior majoring in musical theater, is portraying the role of Katherine, a headstrong and independent woman who Petruchio is determined to "tame."
"My favorite part of the process has been adding the western accent in with the language," said Taylor. "It brought it more to life for me and I think the roughness of it adds to the character of Katherine."
Admission is $8 for adults and $6 for students and senior citizens. Tickets are available at the Fine Arts Box Office, or online at the box office website. For more information, visit the Fine Arts Box Office in the South Lobby of the Fine Arts Center, or call the box office at 515-271-3841.