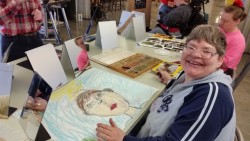 A new art gallery at Drake University will feature the diverse works of more than 20 adults with intellectual disabilities. The result of a partnership between the Drake University Department of Art and Design and Mosaic of Central Iowa, "Finding Happiness" will open to the public with a free reception at 5 p.m. Thursday, March 31, in the Weeks Art Gallery of the Harmon Fine Arts Center, 2505 Carpenter Avenue.
Senior Katelyn Canepa, a psychology major with a minor in studio drawing, created the project after working with Mosaic at a group home teaching art skills to an adult with an intellectual disability. Mosaic is a non-profit organization that serves adults with intellectual disabilities throughout central Iowa.
"I had always thought we should try to find a place to show the art, and display it to the community," said Canepa. "I was trying to find a way to display more work from this population of people who are underrepresented in the art community."
With the help of Emily Newman, a studio art professor at Drake and the faculty advisor for the exhibit, Canepa was able to organize an art day at Drake. Canepa has been working on the project in collaboration Katie Flippen, Mosaic's volunteer coordinator, since January, helped organize an event in which Mosaic visited campus and learned art skills from faculty and student volunteers.
"We had a great turnout," said Canepa. "I met some wonderful people who are just so happy and so excited to have an opportunity like this."
According to Canepa, the project has contributions from about 25 different artists, most of who have contributed three to five different works. She hopes to display most, if not all of them, giving the exhibit a wide variety of works, from prints to mobiles to pastels.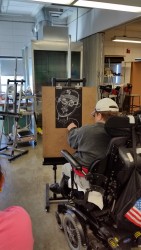 "I've enjoyed making the art," said Nathan Williamson, a person supported by Mosaic who is working on a self-portrait. "I had fun! I hope to be able to do more."
Organizing the project has given Canepa the opportunity to combine knowledge from her psychology and art classes.
"I think what's really impacted me from this project was being able to incorporate everything I've learned from Drake," said Canepa. "Bringing everything together that I've learned over the past four years, and then seeing it in a full-scale, community setting has been absolutely wonderful."
Both Mosaic and Drake's Art Department are hoping to continue the collaboration after the conclusion of the exhibit.
After the opening reception on March 31, Finding Happiness will be on display daily in the Weeks Art Gallery from 10 a.m. to 5 p.m. through Thursday, April 7.