In recognition of his impact on the College of Pharmacy and Health Sciences and thousands of our alumni, an award fund is being created to honor Richard Morrow, GR'83, Ellis and Nelle Levitt Professor Emeritus of Pharmacology, who served as a faculty member from 1972 – 2010. The endowment will annually support one student and one faculty member whose transformative work has gone above and beyond.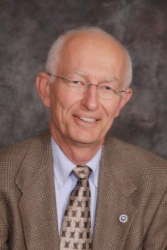 Morrow worked in a variety of administrative roles, including chair of the division of pharmacy sciences, and assistant, interim, and associate deans of the CPHS.  Morrow's impact on the University and college is noteworthy as he chaired and served on a variety of committees and task forces at the University level, including Faculty Senate President. He was instrumental in the success of the college's pharmacy and MBA program and served as liaison to the Iowa Methodist School of Nursing. His impact on students went beyond the classroom as he was a faculty advisor to a number of student groups and honor societies, and a mentor to countless students. Alumni and colleagues today still credit Morrow for their success and describe him as a teacher who cared deeply about his students. 
If you are also interested in a contribution to the Morrow Transformational Leadership Fund, please follow these steps:
1)  Visit http://alumni.drake.edu/
2)  Click on the donate to Drake button to the right.
3)  Complete the form, clicking on 'Other' for the Designation.  Type "Morrow Fund" in the 'Other' dialog box.
 Complete the remainder of the form. If you, or your spouse, work for an organization that has a matching gift program, you can double your support!