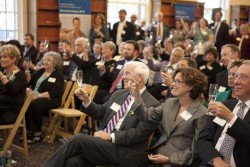 The Drake University National Alumni Association Board of Directors will recognize seven alumni with an award reception Thursday, April 28. The 2016 Alumni Award recipients represent six graduating classes and four colleges. The reception begins at 4:30 p.m., and program begins at 5:30 p.m., in the Cowles Library Reading Room.
"We are proud to honor these alumni for their loyalty, service and achievement" said Blake Campbell, director of alumni relations. "Their dedicated commitment of their time, talents and resources to Drake University and its students ensures the continued success of this great institution.
Alumni Achievement Award
Tim Franson, PH'74, is chief medical officer for YourEncore, an open innovation vendor. Franson previously was a principal in FaegreBD Consulting's health and biosciences practices, where he used his extensive clinical and regulatory experience in all pre- and post-approval phases of pharmaceutical development. Franson is also board certified in internal medicine and infectious diseases. He currently serves as an adjunct professor at the Indiana University School of Medicine, and is immediate past president and a member of the Board of Trustees of the United States Pharmacopeial Convention. Franson has volunteered for organizations including the Little Red Door Cancer Agency and Villages of Indiana, and is a member of Drake's College of Pharmacy and Health Sciences National Advisory Council.
Alumni Loyalty Award
Bill Riemenschneider, JO'66, and Jean Riemenschneider, longtime supporters of Drake University and Drake Athletics, recently partnered with Athletic Director Sandy Hatfield Clubb and Keith Summerville, dean of the College of Arts and Sciences, to help Drake's marching band obtain new uniforms. The Riemenschneiders are loyal fans of Drake Athletics and believe in the importance of Drake's model for athletics, which emphasizes leadership, citizenship, and academics as much as success on the playing field. The Riemenschneiders' continued generosity will benefit countless student-athletes by enhancing the quality of Drake Athletics and providing exceptional opportunities for leadership and growth.
Young Alumni Achievement Award
Sara Van Aernum, JO'01, is assistant news director at KHOU-TV in Houston. Previously, she was the executive producer for WJLA Good Morning Washington in Washington, D.C. In 2013, Van Aernum won an Emmy for Best Morning Newscast for ABC7 News at Noon for coverage of the 50th anniversary of Martin Luther King Jr.'s March on Washington in addition to Emmy's in 2005, 2009, and 2010. Van Aernum is an active Drake alumna and has allowed many Drake journalism students to shadow her at work.
Young Alumni Loyalty Award 
Gretchen Wolf, AS'98, is a partner in the Chicago office of the international law firm Skadden, Arps, Slate, Meager & Flom LLP. Wolf joined the firm as an associate in 2004, was named counsel in 2012, and became a partner in 2015. Wolf represents a wide variety of corporations and individuals in complex regulatory investigations and civil litigation in both federal and state courts.
Wolf is a member of Drake's College of Arts and Sciences National Advisory Council and has also been involved in the Chicago alumni regional advisory board. Additionally, she contributed to installing a live camera and web recording system in the Patty and Fred Turner Jazz Center. While at Drake, Wolf was a Carpenter Scholar and graduated Magna cum Laude.
Community Service Award
Dr. E. Nick Manoles, LA'51, worked as Chief Medical Director of Pathology and Nuclear Medicine at Park Nicollet Methodist Hospital in Edina, MN in a medical career that has spanned more than 50 years. He has led over 20 medical mission trips with faith-based organizations such as World Medical Mission and Medical Ministry International to regions of Africa, South America, and Asia. Manoles served for four months in the pathology department of the Kijabe Mission Hospital in Kenya, and has taught conversational English to high school English teachers in China and Inner Mongolia. He received the Drake University Distinguished Service Award in 1997 and the Double D Award in 1968.
Distinguished Alumni Award
Larry Zimpleman, BN'73, GR'79, is executive chairman of the board of directors for The Principal Financial Group, where he served as president, chairman, and CEO from 2009 to 2015. Zimpleman serves on the board of the American Council of Life Insurers and the Financial Services Roundtable. He has received numerous awards for his leadership in the retirement services industry, including the 2012 Lifetime Achievement Award from PLANSPONSOR Magazine.
Zimpleman has served as a member of the Drake University Board of Trustees since 2006 and was named chair of the board in 2012. In addition, he most recently served as one of the co-chairs of the distinctlyDrake campaign, which raised over $216 million between 2010 and 2015.