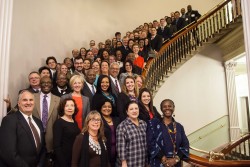 Drake University will host 25 of Africa's brightest emerging leaders this summer for a six-week academic and leadership institute sponsored by the U.S. Department of State. Beginning in June, Drake will host young professionals between the ages 25 to 35 who were selected to participate in the Mandela Washington Fellowship for Young African Leaders, the flagship program of President Obama's Young African Leaders Initiative.
The Mandela Washington Fellowship empowers young African leaders through academic coursework, leadership training, mentoring, networking, professional opportunities, and support for activities in their communities. Drake's institute will focus on business and entrepreneurship, and cater to fellows aspiring to become leaders in the private sector or to start their own business ventures in Africa. Drake faculty will lead fellows in the development of a personal leadership plan and in-depth entrepreneurial project; the participants will also engage with a number of the University's corporate and community partners in the Des Moines area.
"This summer institute provides an exceptional opportunity for Drake and the Greater Des Moines community to welcome some of the brightest young leaders in Africa," said Christa Olson, vice provost for international affairs. "This opportunity is directly aligned with the University's commitment to serve as a hub for civic and intercultural engagement, and with our vision to broaden the global perspectives of students, faculty, staff, and community members."
The cohort of fellows hosted by Drake University will be part of a larger group of 1,000 Mandela Washington Fellows hosted at 36 institutions across the United States this summer in academic tracks that include business and entrepreneurship, public management, civic leadership, and energy.
Drake alumnus Johnnie Carson, senior advisor to the president for the United States Institute of Peace, encouraged Drake leaders to undertake the program. He also advocated to IREX in support of Drake's candidacy.
"Drake University is well positioned to serve as an academic institute for the Mandela Washington Fellowship program," said Carson, a former assistant secretary of state for African affairs whose career includes ambassadorships to Kenya, Zimbabwe, and Uganda. "[Drake] has a strong academic record and excellent programs in political science, economics, and international relations as well as business and leadership."
Carson noted that Drake has institutional partnerships with the Makerere University Business School in Uganda, Addis Ababa University in Ethiopia, and the University of KwaZulu-Natal in South Africa, and also demonstrates a commitment to global engagement through a number of centers and programs.
Fellows are young leaders from Sub-Saharan Africa who have established records of accomplishment in promoting innovation and positive change in their organizations, institutions, communities, and countries. These exceptional young leaders will meet with President Obama at a town hall during the Presidential Summit in Washington, D.C.; select fellows will also spend six weeks in professional development training with U.S. non-governmental organizations, private companies, and government agencies.
Working closely with the U.S. Department of State's Bureau of Educational Affairs and its implementing partner, IREX, host institutions have designed academic programs that will challenge, inspire, and empower these inspiring young leaders from Africa.
For more information contact Annique Kiel, serving as administrative director for the Mandela Washington Fellowship institute at Drake, at 515-271-3039 or annique.kiel@drake.edu. Lance Noe, director of Drake's Center for Professional Studies, and Deb Bishop, associate professor of practice in management and international business, are academic co-directors for the institute.
The Mandela Washington Fellowship for Young African Leaders is a U.S. government program that is supported in its implementation by IREX.  For more information about the Mandela Washington Fellowship, visit MandelaWashingtonFellowship.state.gov and join the conversation with #YALI2016.
Drake University is a midsize, private university in Des Moines, Iowa, enrolling more than 3,300 undergraduate and 1,700 graduate students from 40 states and approximately 40 countries. Students choose from over 70 majors, minors, and concentrations and 20 graduate degrees offered through six colleges and schools. Drake students, faculty, and staff take advantage of the wealth of cultural, recreational, and business opportunities found in Iowa's capital city. In return, Drake enriches the city through its own cultural offerings, considerable economic impact, and many service-learning endeavors, which channel the talent and energy of the Drake students toward meeting the needs of the community.