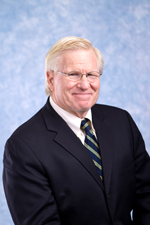 A local specialist on Alzheimer's disease and dementia will kick off a six-month speaker series educating the public on issues related to aging.
Dr. Robert Bender, a geriatric physician at Broadlawns Medical Center, will present "Healthy Aging and Brain Wellness" at 7 p.m. Tuesday, Jan. 26, in Drake University's Sussman Theater, 2875 University Ave. The free lecture is open to public and will open the Calvin Community Panels on Aging series, co-sponsored by Calvin Community and The Comparison Project at Drake University. Mary Mincer Hansen, co-chair of Age Friendly Greater Des Moines Health Committee, will moderate a Q&A session with Bender following the lecture.
Bender, a trained geriatrician for more than 30 years, will draw on his extensive experience to discuss modern medicine's lessons for aging well. He will discuss how physical exercise and cognitive activity, along with other factors such as medication, diet, and meditation, can help slow the progression of Alzheimer's and other dementia related diseases.
Dr. Bender's lecture has been approved for continuing education credits by Iowa Board of Nursing Provide #302, HCI Care Services. Nurses and other healthcare professionals can obtain .015 CEUs of 1.5 contact hours of continuing education.
Calvin Community is a faith-based, not-for-profit continuing care retirement community nestled in Des Moines' Beaverdale neighborhood. The Church and Community Advisory Board at Calvin scheduled six public panels to discuss issues of aging, and The Comparison Project co-sponsored the series to run in conjunction with the Project's current series on Death and Dying.
Future program dates and topics are:
February 23: Supporting Our Parents
March 29: Caregiving
April 26: Managing Chronic Diseases
May 24: Economic Security
June 21: Aging and the Law
Events are free and open to the public, and will be held from 7 to 9 p.m. in Sussman Theater. No pre-registration is required. Each event in the series will be recorded and made available to community and religious organizations.