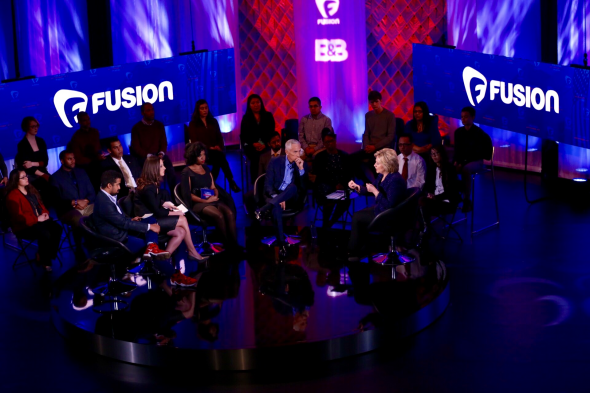 Please note: Drake University does not have tickets available for public distribution. Drake was allocated a limited number of tickets, and made the strategic decision to reserve them for students, faculty, and staff. The tickets were distributed via random lottery to those who requested them, with priority given to students.
For the third time this campaign cycle, the Democratic presidential candidates will take the stage in Drake University's Sheslow Auditorium to discuss issues of critical importance to voters. CNN will host a Town Hall Monday, January 25 at 8 p.m. CST/9 p.m. ET. Former Secretary of State Hillary Clinton, former Gov. Martin O'Malley, and Sen. Bernie Sanders have all confirmed their participation.
CNN anchor Chris Cuomo will moderate the Town Hall, which will be broadcast live on CNN, KCCI-TV, and other CNN affiliates in Iowa. The Town Hall will also be live-streamed online and across mobile via CNNgo, and exclusively for broadcast radio through WestWood One News and on satellite radio with SiriusXM. CNN International and CNN en Espanol will simulcast the Town Hall.
Clinton, O'Malley, and Sanders most recently appeared at Drake University just two weeks ago, when they participated in the Iowa Brown and Black Presidential Forum. That forum was broadcast by Fusion network and engaged the candidates in issues of importance to America's growing multicultural population.
The candidates also met on the stage in Sheslow in November for a live, nationally televised presidential debate sanctioned by the Democratic National Committee and hosted by CBS News, The Des Moines Register, and KCCI.
"Drake University has strengthened its reputation this election cycle as the best venue in Iowa, and perhaps the nation, for political engagement and civil discussion," said Drake University President Marty Martin. "Our position as capital of the Iowa caucuses has generated countless professional experiences for students and helped prepare them to be engaged global citizens."
Additional events to be held on Drake's campus during caucus season include:
• Friday, Jan. 22: Republican presidential candidate Dr. Ben Carson will sit down with Chris Prudhome, president of Vote America Now, for a live interview in the #AllVotesMatter Presidential Video Series presented by BET Digital and Vote America Now. This groundbreaking digital video series will introduce millennial voters to the candidates participating in the 2016 presidential election, and question them via social media about the issues that are being discussed in urban communities across the country. 7 p.m. CST, broadcast at BET.com/AllVotesMatter.
• Tuesday, Jan. 26: The National Journal, Atlantic Media, and Allstate present The Renewal Awards: Celebrating America's Local Innovators. Drake University alumnus Matt Vasilogambros, staff correspondent for the National Journal, will co-moderate the event alongside Ron Brownstein, editorial director for Atlantic Media. With the 2016 presidential elections as a backdrop, this summit will engage with national and local leaders, showcase innovators, and ask how opportunities can be created for even greater innovation across America. 9 a.m. to noon, Parents Hall, Olmsted Center.
• Wednesday, Jan. 27: Drake's student political organizations—Student Senate, Drake College Republicans, Drake University Democrats, and the Drake Political Review—host a mock caucus for students. The event titled "WTF's A Caucus?" is scheduled for 7 p.m., and is designed to teach students about the caucus process and increase turnout on February 1. Students will simulate both the Democratic and Republican caucuses.
• Monday, Feb. 1: Voters will caucus at four Republican and one Democratic precinct on Drake's campus. Locations TBA.
As a tax-exempt educational institution, Drake does not endorse or oppose any political party or candidate for public office. Republican presidential candidates Ted Cruz, Rand Paul, and Rick Santorum hosted events on Drake University's campus in 2015.