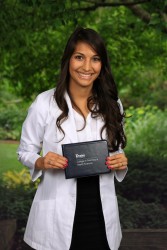 Andrea Prince-Gomez, a third-year Drake University pharmacy student from Ferguson, Mo., has been accepted to the Tour for Diversity in Medicine, a program that advocates for students from underrepresented populations to join healthcare fields. She will travel the country with other members of the organization beginning in February as its first representative for the field of pharmacy.
"Andrea has an inspiring personal story that will motivate young people to pursue careers not only in pharmacy, but all healthcare fields," said Kameron Leigh Matthews, the tour's founder and co-director. "She comes from an underserved background, and she has definitely faced negativity…but she stuck to her [intuition], she knew what her interests were, and she wasn't concerned that her upbringing or background would not be strong enough to take her there."
Prince-Gomez says in her childhood city of Ferguson, Mo., the idea of becoming a pharmacist was far from most students' minds. Few of her high school classmates went to college. When her older brother earned an associate's degree, it was the highest degree anyone in her family had received.
"There wasn't really a mentor for applying to colleges," said Prince-Gomez. "Because in Ferguson it's a big deal to graduate high school. You may be the first in your family to graduate from high school. So there's not many people encouraging you to go to college, and if they do, it's the junior college down the street."
Prince-Gomez's experience reflects that of many other Latina students. While Latinos and African-Americans make up an increasing percentage of the American population, they continue to be underrepresented in healthcare fields; for example, African-Americans represent only 3 percent of physicians, said Matthews. Those demographics are reflected in medical programs and pharmacy programs, including Drake's—a situation that Drake administrators are keen to change.
"The University has made a commitment to increasing inclusivity and diversity among the student body, faculty, and staff," said Renae Chesnut, interim dean of the College of Pharmacy and Health Sciences. "Andrea's selection aligns with our college's vision to be a diverse community of learners leading the way to a healthy world. She is a positive role model for others and will be an inspirational ambassador on the tour."
Prince-Gomez made the leap from high school to college through willpower and luck. She navigated the application process and filed for financial aid on her own, paid for college admission exams from her own pocket, and was accepted into the University of Missouri, where she earned a bachelor's degree in biology.
She worked 60 hours a week to put herself through school. She held down a job at a local restaurant, and simultaneously landed a job in a pharmacy. A third job as equipment manager for the football team took her all over the country, allowing her to travel more than she'd ever expected. Exhausted but undeterred, she never let her work get in the way of her studies. She took 12-15 credit hours each semester in order to stay on track. She met her husband, Munir Prince, a football coach in St. Louis, and he provided some much-needed emotional support.
"I put a lot of pressure on myself to keep going, emotionally and financially I kept myself going," she said. "I wanted to graduate, and I wanted to graduate on time."
Prince-Gomez made another bold step when she enrolled in the pharmacy program at Drake. She was attracted by the University's reputation and surprised by Des Moines' appeal. She resumed work at a local pharmacy to put herself through the program; she works as many as 30 hours a week during the school year, and full-time over the summers.
As a member of the Tour for Diversity in Medicine, she'll travel the country via bus with students and medical practitioners in a variety of healthcare fields. Her first tour, which departs in early February, stops at colleges and universities in Oklahoma, Arkansas, and Louisiana. Participants receive a full day of workshops, during which the tour members talk about their personal histories, discuss how they chose their careers, and impart on students the critical skills that they need not just for an application to healthcare programs but throughout their lives.
Prince-Gomez sees it as much as a professional growth opportunity as an opportunity for her to advocate to others. She looks forward to networking with others who have persevered through adversity to succeed in healthcare. When the first tour is over, she's invited back to participate in all future tours.
"We want to mentor Andrea and make sure she gets where she wants to go in her career," said Matthews.
In the weeks leading up to the trip, Prince-Gomez has been reflecting on her advice for students. The most important message?
"Always find a way to get done what you set out to do," she said. "If you really want to be a pharmacist and there's anything holding you back—don't let it. There's a lot of costs involved, and it takes a lot of time…but eventually it will all pay off. You just have to get through that struggle, to work hard, before you can have it your way in the end."