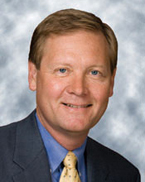 Jerry Anderson, the Richard M. and Anita Calkins Distinguished Professor of Law, has been named dean of Drake University Law School, effective July 1, 2016. He succeeds Ben Ullem, who is currently serving a two-year term as dean of the Law School.
"I am honored to be selected to lead the Law School during an important time in its history," said Anderson, who has served on the Drake Law faculty since 1991. "We are in the midst of a transformative period in legal education, and Drake is well-positioned to creatively adapt to the changing needs of students and the profession."
In recent years, Drake Law School has introduced new and revamped program offerings designed to serve modern employment needs, including a master's program designed for non-lawyers who need some knowledge of the law in order to enhance their professional career. The Law School also revamped its Master of Jurisprudence (M.J.) and Juris Doctor programs (J.D.), so students can now take courses part-time, making it more convenient for working professionals.
Anderson hopes to enhance the 150-year-old Drake Law School's visibility and profile on the national scale—and also locally, where the Law School serves the Greater Des Moines community, including through pro bono work performed by the Drake Legal Clinic.
"We have a very special group students, staff, faculty, and alumni, who play a huge role in the practice, advancement, and improvement of the law," Anderson said.
Anderson earned his B.S. in Business Administration at the University of Kansas and his J.D. at Stanford Law School. Before joining Drake Law School in 1991, he taught at the Catholic University of America Columbus Law School and University of Oklahoma Law School. He also practiced at Lathrop & Norquist in Kansas City, Mo., and clerked for the Honorable Alex Kozinski in the U.S. Court of Appeals, 9th Circuit.
While at Drake Law School, Anderson has twice been selected as the Leland Forrest Outstanding Professor of the Year, and he served as associate dean from 1996 to 2001. His areas of expertise include administrative law, environmental law, natural resources law, and property law.
Anderson has co-authored two books on environmental and property law, in addition to numerous articles and presentations. He has been active on a number of Law School, University, and community committees and boards, including the editorial board of the international Environmental Law Review and the board of directors of the Iowa Environmental Council.
"[Anderson] brings to the position of dean a rich knowledge of Drake Law School, an extensive range of experience, and a deep commitment to the University," said Joe Lenz, Drake's interim provost, in an announcement to the Drake community.
Ullem, who has served as dean of Drake Law School since July 1, 2014, also served as interim dean of Drake Law School from 2008 to 2009. Ullem graduated from Drake University in 1966 and Drake Law School in 1969. He practiced law at the Des Moines Law firm of Whitfield & Eddy PLC from 1969 until his retirement as a senior partner in 2014. He has served as a member of Drake's Board of Trustees since 1989, except while an administrator at Drake Law School, and plans to return to the board immediately upon conclusion of his term as dean. He has received Drake's Alumni Loyalty Award and Distinguished Service Award—the highest honor given to Drake alumni.
"Dean Ullem has done excellent work to lay a foundation for several important initiatives that I plan to carry forward," Anderson said. "I thank him for his incredible service to the Law School, both as an alumnus and as dean."
More information about Anderson is available at this link.