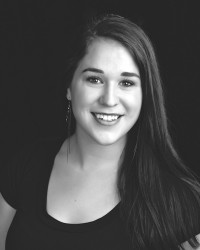 As students across the nation prepare to return to college campuses following a winter break spent with friends and family, one student in Iowa is getting ready to move in with some uncommon housemates. Drake University senior Haley Jenkins will spend the spring semester as a resident of Deerfield Retirement Community in Urbandale, in return for a little musical entertainment, thanks to a partnership between the Drake University music department and Deerfield.
"I'll perform twice a month for residents and in return, I get to live here rent-free," said Jenkins, a 21-year-old vocal performance major. "I'm officially the youngest senior living resident in Iowa."
While it's true Jenkins will receive meals as well as a free room and utilities as part of the agreement, she says being able to hone her performance skills and add a unique component to her resume was perhaps the most enticing part of her decision to move to Deerfield. Her love of older adults and her ability to make others smile through her performances made Jenkins the perfect fit for the community.
For the community's part, Deerfield pursued the relationship in part because of its tie-in with Masterpiece Living, a successful-aging initiative that helps define the community's culture. Deerfield is the only senior living community in Iowa to partner with Masterpiece Living, which supports intergenerational life experiences as a way to help individuals enhance their emotional health.
The fact that Jenkins will provide a live musical performance twice monthly also struck a chord with Deerfield and made the partnership attractive.
"I've been in senior living more than two decades, and this is one of the more unusual partnerships I've seen," said James Robinson, executive director of Deerfield Retirement Community. "This particular situation provides not just an entertainment value in terms of music, but an opportunity for residents to interact with a bright and talented local student."
Drake's music department is always seeking new opportunities for students to receive valuable professional experience that enhances their classroom experience, said department chair Clarence Padilla.
"This partnership with Deerfield provides the student with an engaged type of learning environment that creates a harmonious integration of a liberal arts education and professional preparation," Padilla said.
While Haley and the residents have already been getting to know one another, her official move-in day at the community will be this Friday, January 8. While there, she'll also be blogging about her experience.
"Whether you're in your Mom's womb, or struggling with Alzheimer's, and all through life, people really respond to music in a beautiful way," Jenkins said. "I can only hope to bring joy, or sadness—or whatever emotion people want to feel—through my music."
(For photo, video, interview or other media opportunities, contact Jeff Bell by emailing jbell@glynndevins.com or calling 913-317-2243.)
About Drake University
Drake University is a midsize, private university in Des Moines, Iowa, enrolling more than 3,300 undergraduate and 1,700 graduate students from 40 states and approximately 40 countries. Students choose from over 70 majors, minors, and concentrations and 20 graduate degrees offered through six colleges and schools. Drake students, faculty, and staff take advantage of the wealth of cultural, recreational, and business opportunities found in Iowa's capital city. In return, Drake enriches the city through its own cultural offerings, considerable economic impact, and many service-learning endeavors, which channel the talent and energy of the Drake students toward meeting the needs of the community.
About Deerfield
Deerfield, located at 13731 Hickman Rd. in Urbandale, IA, is a Life Care community that provides senior adults with a unique lifestyle experience and a variety of residential options, including maintenance-free residential living apartment homes and townhomes. In addition to the new assisted living apartments and memory care levels of living, private and semiprivate skilled nursing suites are also available as part of the full continuum of care. Residents enjoy a full range of services and amenities, such as a café, library, hair salon, wellness center, game room, valet service and Masterpiece Living® wellness approach. More information about Deerfield is available by calling (515) 331-9676 or by visiting www.DeerfieldRC.com.
About Lifespace Communities, Inc.
Deerfield is owned and operated by Lifespace Communities, Inc. Founded in 1976, Lifespace Communities, based in Des Moines, Iowa, is a not-for-profit corporation that has grown to operate 12 continuing care retirement communities in seven states, serving more than 4,300 residents and employing more than 2,800 team members. The organization is recognized by the LeadingAge Ziegler Top 150 as the seventh largest not-for-profit senior living provider system in the country. For more information about Lifespace and its communities, visit www.LifespaceCommunities.com.