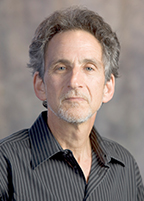 Jody Swilky, Ellis and Nelle Levitt Professor of English and writer and co-producer of the award-winning documentary "A Little Salsa on the Prairie: The Changing Character of Perry, Iowa," is working on a new project documenting the history and evolution of the Iowa State Penitentiary. The documentary is tentatively titled Serving Time: The Long Life of Iowa State Penitentiary.
Built in 1839, the ISP was one of the oldest functioning maximum-security prison in the country before it moved to a new correctional campus in 2015. Swilky's documentary will explore the impact of the move on the offenders housed in both the old and the new facilities, and whether or not the new correctional campus is demonstrative of a step forward within the history of modern prison reform.
Swilky is collaborating with Kent Newman, President of Full Spectrum Productions, who previously worked with Swilky to produce "A Little Salsa on the Prairie: The Changing Character of Perry, Iowa." Their previous film project won a Gold Eddy Award in the Professional Documentary category at the 2007 Cedar Rapids Independent Film Festival, and was shown on Iowa Public Television and DirecTV's Documentary Channel.
"It's a compelling opportunity to document an historic event in Iowa, and to contribute to the national debate about the modern corrections system," Swilky said. "With this project, I've been able to listen to people's stories and histories, and learn their perspectives on how issues such as sentencing, housing, and the availability of education impact their daily lives. These conversations have helped me gain new critical understanding of the limits and possibilities for directing [state] resources in both meaningful and wasteful ways."
The documentary, which will tentatively be released in late 2016, will discuss the history of the old facility, compare the differences in daily life between the old and new prisons, and examine the impact of the move on the health and mindset of the offenders.
The project began in 2013, and Swilky and Newman are currently working on documenting life in the new facility since the move August 1, 2015. They will continue to investigate its impact on offenders, administrators, and correctional officers through the end of 2015. Postproduction editing will continue until mid-2016, with marketing and distribution likely beginning in late 2016.
Swilky is drawing on prior experience with the correctional system to inform the project. He has previously worked with offenders within the correctional system, teaching creative workshops at Attica Correctional Facility and a composition course at Coxsackie Correctional Facility, both located in New York. He also previously worked at Arthur Kill Correctional Facility in Staten Island as an advisor to their prison newspaper.
The documentary is in partnership with Humanities Iowa, an affiliate of the National Endowment for the Humanities in Washington, D.C.
"Humanities Iowa has an extensive history of supporting documentaries about Iowa's history that are also relevant on a national scale," said Chris Rossi, director of Humanities Iowa. "We are proud to help Jody Swilky and Kent Newman tell this important story about community, continuity, and change set against the unique backdrop of Iowa's maximum security prison in Fort Madison."