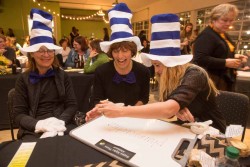 Bookworms, savants, and academics of all ages are invited to a spelling competition to benefit Drake University's Adult Literacy Center. No spelling expertise is required—just a desire to compete for a good cause.
The second-annual Adult Spelling Bee invites teams of four or five to face off in an alphabet-based battle, with proceeds supporting efforts to improve literacy among adults in the Des Moines area.
The Bee will take place from 6 to 8 p.m. Friday, Nov. 13, on Pomerantz Stage in the Olmsted Center, 2875 University Ave. There is a team entry fee of $200. Spectator tickets are $20 for non-Drake students and $5 for Drake students.
Besides the spelling bee, spectators will also have the opportunity to listen to stories about individuals who have succeeded and volunteered through Drake's Literacy Center Programs.
Students enrolled in Drake's leadership concentration are organizing and sponsoring the event, which is co-sponsored by Banker's Trust.
Drake's Adult Literacy Center was established in 1976 as part of the School of Education, and serves over 100 adults each year. There are currently 90 students enrolled in the program, with more on the waiting list.