Student media win national awards
SJMC students once again made an impressive showing, including two first-place awards, in two national contests whose winners were announced over the weekend.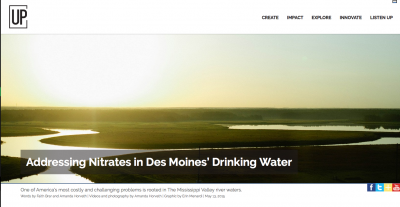 In the Associated Collegiate Press awards:
Amanda Horvath and Faith Brar won first place for multimedia story of the year for a story on nitrates in Iowa's rivers for Urban Plains. Both graduated in May; Amanda was a broadcast news major, Faith a magazine major.
Greta Gillen, a senior magazine and graphic design double major, won first place in magazine spread design for "Traffic Trap" in Drake Magazine.
Rachel Collins, a radio-tv producing major who graduated in May, won honorable mention for environmental portrait for Drake Magazine.
In the College Media Association Pinnacle Awards: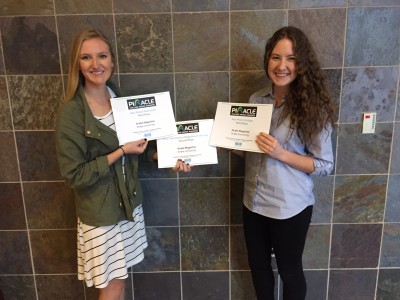 Drake Magazine won second place in best feature magazine, third place for photo illustration (Cole Norum) and third place for photo package (Morgan Cannata).
Urban Plains won second in best viral video, for Drake's world-record Nerf gun fight.
KDRA won third place for best podcast.
The awards were announced Friday and Saturday at the National College Media Convention in Austin, Texas.
Also at the convention, associate professor Jill Van Wyke led three sessions, on livestreaming with Periscope, ethics and accuracy in breaking news, and live-blogging.
Campus Climate forum — SJMC?
Campus Climate conversations have been scheduled for the past month to allow faculty, staff and students all over campus to get together to respond to the Campus Climate survey and suggest action steps. Interested in participating in an SJMC-specific Campus Climate forum, either individually or with your student organization? Contact Dean Kathleen Richardson (kathleen.richardson@drake.edu) to set up a time.
Read the survey results here: https://wwww.drake.edu/climate-assessment/
Downtown networking event today
The Drake Student Alumni Association is hosting a downtown networking event today, Nov. 2, from 5:30-6:30 p.m. in The Basement of the Des Moines Social Club. Free food and transportation provided. Meet at Olmsted by 5 p.m. to receive a bus ride to the event. Bus will return to Drake by 6:50 p.m.
DBS Film Festival this week
The Drake Broadcasting System Fall Film Festival is this Thursday, Nov. 5, 7-9 p.m. in Mer. 106.
Want $10,000 to start your own business?
An informational meeting about next summer's Lorentzen Student Hatchery will be held Wednesday, Nov. 4, on third floor, Aliber Hall. More at www.drake.edu/cbpa/centers/