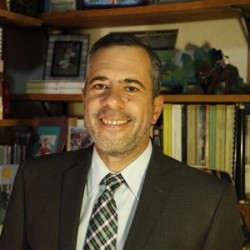 The Comparison Project at Drake University continues its year-long series on death and dying this month with an exploration of the "cult of Santa Muerte" (Saint Death), the fastest-growing and most prominent religious movement in Mexico.
Eduardo Gonzalez Velazquez, research professor at the Monterrey Institute of Technology and Higher Education in Guadalajara, will deliver "La migración y el culto a la Santa Muerte: asirse a lo que sea" ("Migration and the Cult of Santa Muerte: Hanging onto Whatever") at 7 p.m. Thursday, Oct. 29, in the Sussman Theater of Drake's Olmsted Center, 2875 University Ave. The lecture is free and open to the public.
As many as 10 million Mexican citizens are reportedly affiliated with the cult of Santa Muerte, and the movement has attracted significant interest in the American southwest. Some traces can be found in Iowa, in the form of votive candles and other icons, although Drake faculty members are not aware of any shrine in the state.
"Any investigation of recent, modern challenges and changes to traditional 'theologies of death and dying' need to look at this phenomenon," said Tim Knepper, director of The Comparison Project and professor of philosophy at Drake University. "Santa Muerte is seen by followers as non-discriminatory and non-judgmental. As death, she is the great equalizer.  All will meet her one day—rich and poor alike.
Through a journalistic lens, Gonzalez explores the worship of Santa Muerte in the city of Guadalajara, focusing both on the general ways in which the church of Santa Muerte offers "a place for everyone" and on the specific ways in which Santa Muerte serves the needs of migrants attempting the crossing to the United States. He will tie the movement to religious and cultural history, and look at how the Santa Muerte cult has become particularly popular among some countercultural groups.
"Santa Muerte is seen by her devotees as particularly successful at meeting their requests, whereas the other Catholic and folk saints can't," Knepper said. "These requests are everything from bringing back wayward husbands, to healing, to getting convicts out of jail, to finding employment, to protecting drug shipments."
Gonzalez is a noted expert on the religious movement, and on issues related to migration from Central America to Mexico and from Mexico to the United States. He was the recipient of the Jalisco Journalism Prize in 2007 and 2009 in for reporting and writing, respectively. He has published thirty articles and book chapters, including "Con Todo y Triques," "Frontera Vertical," and "Ciudadanos a la Mitad." His current area of research is US-Mexico migration.