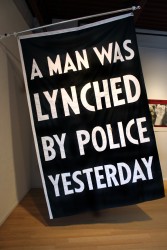 Lenore Metrick-Chen, associate professor of art history in the Department of Art and Design, published "We've Always Been Here: A Portrait of the US by Two Black Artists." The article examines the work of John Sims and Dread Scott and their discussion and representation of racial inequality in the United States, specifically in Iowa.
Metrick-Chen's article was published on August 12 in Hyperallergic, "a forum for playful, serious, and radical perspectives on art and culture in the world today." The article has been featured on Hyperallergic's website and Facebook page, and can be accessed online at this link.
Metrick-Chen is an art and cultural historian and curator who explores visual art's agency in social change, in issues of race, feminism, and contested public space. She is author of an upcoming book from SUNY Press, the edited volume Creating Cultural Memory: Architecture, Monuments and Other Ephemera, in addition to an upcoming exhibit, opening this November in Drake's Anderson Gallery. The exhibit is Creating Public Space: The Art and Politics of the Here and Now, and will be hosted from Friday, Nov. 13, through Friday, Feb. 12, 2016.
Previously, Metrick-Chen has curated numerous exhibits and created catalogues in conjunction with students at the Anderson Gallery that look at identity issues, including Projecting Identity and Ape Rope Pray 8. Additionally, her book Collecting Objects and Excluding People: Chinese Subjects and 19th Century American Visual Culture speaks of the effect of the United States Exclusion laws on perceptions of Chinese people and Chinese objects in 19th-century US.