Bulldogs aren't often known for their velocity, but this one can travel twice the speed of sound. Drake alumnus Jonathan Greene, BN'15, was hired this summer as an F-16 fighter pilot with the Minnesota Air National Guard.
Greene was among 84 applicants for two pilot positions with the 148th Fighter Wing. After extensive training, he'll settle into the cockpit of a jet at the Duluth Air National Guard Base in Duluth, Minn.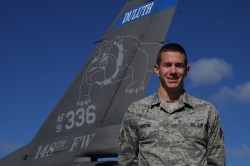 Fittingly enough for this Drake grad, the squadron's mascot is a bulldog, and the face of a bulldog is stenciled on the tail of each aircraft.
"It is an absolute honor to be selected for this position," says Greene. "I'm extremely excited for flight school and to be flying and training with some of the best young aviators the world has to offer. I know that I have an incredible amount of hard work ahead of me to achieve this lifelong dream, but I'm confident that I'll be successful because I have been blessed with countless mentors that have prepared me for this journey."
Greene enrolled at Drake University as a junior at age 25. The Burlington, Iowa, native—son of a pharmacist and grandson of a World War II pilot—completed some pre-pharmacy courses at a junior college and transferred to the University of Iowa before choosing to enlist in the Iowa Air National Guard in 2010. He served as an F-16 crew chief until 2013, when Iowa's 132nd Fighter Wing lost its combat aircraft due to budget cuts; since then, he's worked to train new guard enlistees as they prepare for basic training.
While still working at the air base, he enrolled at Drake to learn management and leadership skills that would be required of a pilot—like those described on the Air National Guard's website: "As a fighter pilot… not only do you fly the aircraft, you lead and train your aircrew as well. The lives of many hang in the balance whenever you take off on a new mission. You need a cool head and nerves of steel." Greene credits his coursework in the College of Business and Public Administration and his Leadership Concentration for his successful application, which required that he possess not only sharp motor skills and peak physical fitness but also a keen mind for critical thinking, problem-solving, and communication.
"Studying business and business management at Drake was the best way to gain leadership education and experience," says Greene. "It gave me the opportunity to work with younger peers, and gain mentorship from people I worked for and worked with."
In an international business class, Greene was part of a small team of students that worked directly with top executives of a global Fortune 500 company to help them adapt their management styles to different cultures.
Annette Watson, career development manager in Drake's Professional and Career Development Services office, led Greene through three rounds of mock interviews in preparation for his meetings with top brass at the Minnesota Air National Guard. Greene had applied for a prior fighter pilot position and was named a runner-up for that position. He'd written down all of the interview questions from memory, and rehearsed his answers with Watson—that helped him be confident, prepared, and professional during the interviews that landed him the job.
This fall, Greene passed his final health checks to clear him for flight school. He expects to begin his training after the holiday season—and there are about 5 years' worth of training ahead of him before he's a fully qualified F-16 pilot. After training he'll serve as an active duty Guard member for 6 months per year, and expects to be deployed every 3-4 years.
"He is a pure testament to finding your passion and staying with it, overcoming a few obstacles, and realizing your dreams," says Watson. "I know that flying is Jonathan's passion, and I'm so glad that he gets to pursue it."