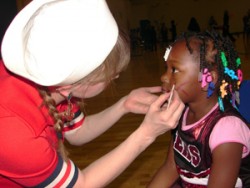 Drake University is once again hosting Halloween Hoops for Des Moines area children ages 3-11. The 22nd annual event is Thursday, Oct. 29, from 6-8 p.m. at the Bell Center on Drake University's campus.
"Halloween Hoops is a big party for kids," said David Walker, Dwight D. Opperman Distinguished Professor of Law and faculty advisor to the Drake Public Service Scholars, the lead organizer of the event. "It's one way that the Law School and the University reach out to and engage the community. It's always a lot of fun."
Various games and activities are planned for the event, including basketball, face painting, musical chairs, fishing for candy, piñatas, and a cotton candy machine. Kids can also enjoy giveaways such as crayons, coloring books Drake Law students made from free art, Drake merchandise, toothbrushes, and candy.
Pizza, apples, cookies, juice, and water will be served. The event is free, but registration and a signed parent/guardian release form are required. Visit www.drake.edu/halloweenhoops to register or find more information. Online registration ends Saturday, Oct. 24.
"It's a great time for the little kids, and the truth is, it's a great time for the Drake students who put on the party, too," said Russell E. Lovell II, Emeritus Professor of Law and founder of Halloween Hoops. "It reminds you that being a kid can really be a lot of fun."
Children are encouraged to wear costumes or something orange, but it is not required.
Activities are supervised by Drake Public Services Scholars and members of the Drake Student Bar Association, Delta Theta Phi law fraternity, and the Drake Public Interest Law Association, as well as undergraduate Drake students.
Community organization leaders and Drake faculty members will also be present. Representatives from Head Start, Drake Athletics, and the NAACP Des Moines Branch will have information tables during the event.
Halloween Hoops is co-sponsored by the Drake Student Bar Association and the Des Moines Branch of the NAACP with support from Drake's Public Service Scholars, Center for Community Engagement and Service-Learning, Delta Theta Phi, and the Public Interest Law Association.