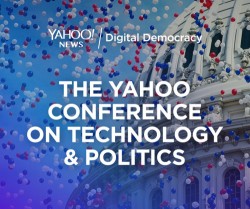 Update Nov. 10: Presidential candidate Rand Paul and "Orange is the New Black" actor Diane Guerrero were added to the lineup today. The start time was set for 9:30 a.m.
Update Nov. 9: Katie Couric, Alyssa Bereznak and Mike Farah are no longer able to attend, and several guests were added to the itinerary.
Republican presidential candidate Rand Paul and "Orange is the New Black" actor Dianne Guerrero will participate in a Yahoo conference to be held at Drake University on November 12, with other confirmed participants including a former head of digital strategy for the Obama White House and a digital strategist for Mitt Romney and George W. Bush.
Drake will serve as the venue for "Digital Democracy: The Yahoo Conference on Technology and Politics," an all-day conference that explores the future of our democratic process and the relationships between citizens and their government. The event will begins at 9:30 a.m. in Parents Hall on the upper floor of Olmsted Center, 2875 University Ave. To RSVP and for up-to-date agenda information, visit this link; a limited number of seats will be held specifically for Drake students.
Journalists from Yahoo including Michael Isikoff, Matt Bai, David Pogue, Olivier Knox, Jon Ward, and Leslie Sanchez will participate in the conference, which is designed to attract Drake students and faculty, Iowa voters and public officials, and representatives of the state's tech community. The event will be held in Parents Hall of Drake's Olmsted Center, 2875 University Ave., and live streamed to a global audience on Yahoo Politics.
Among the confirmed participants are:
Catherine Bracy, Director of Community Organizing for Code for America
Nicholas Carr, Author of the acclaimed new book The Glass Cage: How Our Computers Are Changing Us
Morgan DeBaun, CEO and co-founder at Blavity
Mikey Dickerson, Administrator of the U.S. Digital Service
Haley Van Dyck, Deputy Administrator of the U.S. Digital Service
Mike Farah, President of Production, Funny or Die
Mindy Finn, digital strategist for George W. Bush and Mitt Romney
Scott Goodstein, CEO of Revolution Messaging
Matt Lira, Republican strategist and former Deputy Executive Director of the National Republican Senatorial Committee (2014 cycle)
Nate Lubin, Former Director of Digital Strategy at the White House & Director of Digital Marketing at Obama for America
Nicco Mele, digital consultant at @nicco
Matthew McGregor, director of digital at Precision Strategies
Greg Nojeim, senior counsel and director of the freedom, security, and technology project at the Center for Democracy & Technology
Matthew Olson, former director of the National Counterterrorism Center
Jamal Simmons, writer and political analyst
See Yahoo's announcement today on their Tumblr blog.
The Yahoo conference complements two other major events on Drake's campus that same week. National Public Radio will host "NPR Presents: Michel Martin," a dynamic live event exploring issues of concern to young voters, on November 10; CBS News and KCCI, in conjunction with The Des Moines Register, will broadcast a nationally televised Democratic presidential candidate debate from Sheslow Auditorium on November 14.
"As Des Moines' largest private university we believe we have a core responsibility to promote civil dialogue and serve as a hub for civic and political engagement," said Drake University President Marty Martin. "We are honored to host a multitude of events and activities that help Iowans remain informed and engaged, and that strengthen our state's central role in the presidential election process."
Also on November 12, Yahoo will be kicking off the Yahoo News College Contributor Contest, a unique opportunity for the chance to be one of five student contributors to Yahoo News' 2016 Election coverage. Winners will have the chance to win prizes such as: content published on the Yahoo Politics Tumblr, mentorship opportunities with Yahoo's top tier editorial team and a trip to shadow one of Yahoo News' best-in-class journalists. More details including terms, rules and eligibility criteria are available here: http://yhoo.it/collegecontributor.
"This is just the beginning," Yahoo said in a Tumblr post. "We'll have more guests and details as we head into November."
It's just the beginning, too, for an extremely busy political season at Drake University.