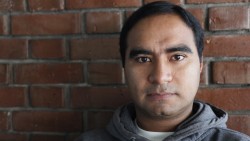 Drake University's Fall 2015 International Film Series continues on Sunday, Oct. 11, with a free talk by Guatemalan director Sergio Ramirez and a screening of his film "Distancia."
The free film series features four films on the theme of migration and human rights, and is co-sponsored by Drake's Department of World Languages and Cultures, the Principal Financial Group Center for Global Citizenship, and the Evans Foundation.
The October 11 screening of "Distancia" begins at 2 p.m. Sunday, Oct. 11, in Sussman Theater in the lower level of Drake's Olmsted Center, 2875 University Ave. Based on a true story, the film follows a father on his journey to reunite with his only daughter, who was kidnapped by the army 20 years prior during the Guatemalan Civil War.
Ramirez will discuss the political situation in Guatemala, the country's 36-year civil war and its aftermath, and the art of filmmaking during his introduction to the film.
The series continues on November 1 with "Living on One Dollar," (2013, Dir. Chris Temple, et. al.) a film that follows the story of four young friends who set out to live on just one dollar a day for eight weeks in rural Guatemala, and concludes on November 15 with "La Jaula de Oro/The Golden Dream" (2013, Dir. Diego Quemada-Díez), a road movie about three teenagers from Guatemala and their journey to the United States.
The series also included a screening of "Granito: How to Nail a Dictator," (2011, Dir. Pamela Yates) on Sept. 11. All films are presented in Spanish with English subtitles.