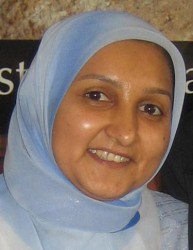 When it comes to public health, ignorance and misinformation can cause a world of hurt. That's why officials from Drake University, the Principal Financial Group Center for Global Citizenship, and nine other Iowa colleges and universities have joined together this month to host a conference focused on ways our schools and community groups can improve sustainable global health through education.
The seventh annual Heartland Global Health Consortium Conference, "Educating for Sustainable Global Health," will be held from 8:30 a.m. to 3 p.m. Wednesday, Oct. 14, in Parents Hall of Drake's Olmsted Center, 2875 University Ave. The event is free for students, faculty, and staff of the 10 colleges and universities who comprise the Heartland Global Health Consortium and $25 for the public. Registration is required and includes lunch.
Fatima Suleman, global practitioner in residence in Drake's College of Pharmacy and Health Sciences, will deliver a keynote address titled "The Other Side of the Coin: Perspectives from a Global Experiential Learning Site." She will explore how students can provide sustainable benefit for partner organizations through experiential learning opportunities—those in which students learn through active engagement with community partners—while ensuring positive learning outcomes for students.
Suleman has vast research and consulting experience on public health policy for governments and international organizations. She has also hosted, placed, and monitored Drake pharmacy and health sciences students in service and professional placements in community settings in South Africa for many years. Suleman is an associate professor in the discipline of pharmaceutical sciences in the online master's program at the University of KwaZulu-Natal (South Africa).
The conference will include panels on the following topics:
Service learning from the community partner perspective
Food insecurity, waste, and "Next Course," the food recovery program at Drake
Social determinants of health
Development in a global context: summer internships in Mysore, India
A partnership model for service-learning based on authentic, holistic community dialogue
Service learning, "voluntourism," and ensuring that communities benefit as much as students
EMBARC and educational aspects of its work
Medication use on medical mission trips
For more information or to register, visit https://cme.dmu.edu/HGHC2015.
Formed in 2007, the Heartland Global Health Consortium is comprised of Central College, Des Moines University, Drake University, Grinnell College, Iowa State University, Mercy College of Health Sciences, Simpson College, University of Iowa, University of Northern Iowa, and William Penn University.