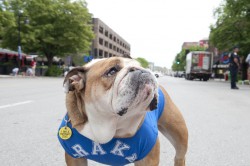 Drake University will unveil its newest live bulldog mascot during a special campus event Thursday.
The celebration will begin at noon in the southwest corner of Helmick Commons with remarks from Drake University President Marty Martin, Athletic Director Sandy Hatfield Clubb, Live Mascot Director Erin Bell, and Student Body President Kevin Maisto. The event is open to the press; in case of rain, it will be held at Pomerantz Stage in Drake's Olmsted Center.
The live mascot—a champion show dog with a radiant personality—will be the furry face of the university at athletics events, campus celebrations, and community festivities. He will walk in the pawprints of Porterhouse, a 2009 Beautiful Bulldog Contest winner who served as Drake's official live mascot until he passed away in December 2013.
"Our new live mascot will embody the virtues of a Bulldog, unite our campus community, and inspire new levels of school spirit," President Martin said.
Drake officials announced in April that they would begin the search for an English bulldog with the right combination of looks, charm, confidence and kindness to represent the university as live mascot. After several months of searching, Bell, who owned Porterhouse with her husband Kevin, locked eyes with their dream candidate: a gorgeous canine whose run as a show dog has ended, but who still has a hunger for the spotlight. The pooch was a gift from an Iowa family who prefers to remain anonymous.
"All the stars aligned to bring us our new mascot," Bell said. "He has everything we could ask for."
Meanwhile, the Drake community has rallied behind the mascot with emotional and financial support. Animal Rescue League of Iowa, Mercedes-Benz of Des Moines, Bone-A-Patreat Healthy Pet Market, and other organizations provided in-kind support. Drake looks forward to officially welcoming this new campus canine.