Drake University students are involved on campus, and always have been. In fact, alumni tend to have a stronger affinity for their clubs or organizations than for their graduating class. Because of this, the Office of Alumni Relations is investing more time and focus on programming that connects with alumni on a personal level, inspiring affinity reunions.
"Nationwide, including at Drake, we have seen a sharp increase in alumni interest in connecting with the organizations, college and schools, and student activities they experienced as a student," says Blake Campbell, director of alumni relations. "Whether it was theatre production, Greek fraternities or sororities, or student leadership, alumni are returning to campus with a very strong focus on the programs and people that helped shape who they are today."
This spring, there will be reunions for choir and theatre affinities, Pharmacy majors, and the School of Journalism and Mass Communication. The choir reunion is scheduled for February 20-21, and will host alumni who have graduated from 1989 to present, as part of the choirs directed by Dr. Aimee Beckmann-Collier. The theater reunion is June 17-18. The Pharmacy and SJMC reunions will be held over the 2016 Drake Relays, April 27-May 1.
Alumna Lisa DuWell, FA'86, says she was thrilled to hear reunions were taking this approach.
"If we went back to Drake (for a reunion) and just saw the people who were in our class, it wouldn't be a true reunion," she explains. "We spent a lot of time together as students, so it is even more appropriate that we do reunions for the whole affinity."
DuWell attributes personal outreach to the success of getting her own classmates to the last theatre reunion in 2012, and saw that the people who come are those who have been away the longest.
Classes still get their chance to connect at the All Alumni Tent Party, a new annual reunion held during Drake Relays, when all are welcome, and classes have an opportunity to celebrate their milestone reunions of 5, 10, 15, 20, 25, 30, 35, 40, and 45 years.
Those reaching the milestone of a 50-year or 60-year reunion experience a special long weekend celebration in October during the Golden Reunion. Alumni enjoy a packed weekend of golf, dancing, lifelong learning classes, interaction with current students, tailgating and a football game, and a bus tour of Des Moines.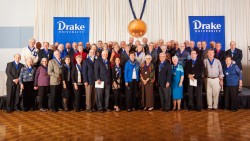 Sheldon Lipson, who attended Drake University for a year in 1954, attended the Golden Reunion last year with his 60-year classmates. As an alumnus of four different universities, Lipson says Drake University was the most extraordinary.
"If I could characterize Drake University in one word, that would be nurturing," says Lipson. "Because of that, the reunion itself was very nurturing. The programming left you feeling enriched. You felt that you were among family."
Learn more about the reunion scheduled for October 22-24 at https://alumni.drake.edu/goldenreunion.
Don't want to miss out on these reunions? Make sure your information is current: Log in at www.alumni.drake.edu or email your information to alumni@drake.edu.