A First Year Seminar titled "I Want to Ride My Bicycle: Cycling and Social Change" is one of 121 finalists for a Wellmark Foundation Community Kickstarter grant.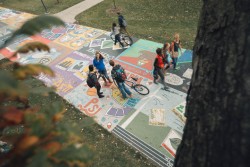 The students' proposal is to make Drake a more bike-friendly community by allowing for students, faculty, and staff members to rent bicycles and safety equipment on campus, increasing security of personally owned bicycles; and offering online training courses in bike safety for cyclists and motorists.
Jade Spady, a first-year student from Hastings, Nebraska, said the class has taught her the benefits of bicycling and introduced her to the biking culture in Des Moines.
"A lot of students we talked to said they haven't been downtown or to West Des Moines," Spady said. "There are a lot of bike trails that can lead them to have those experiences."
The course required student teams to propose a project that could be undertaken by the class that fit within the grant guidelines. The students agreed that all students would benefit from greater access to bicycles.
"A lot of people enjoy biking, they just don't have the option," Spady said. "The bike library will open a lot of options."
"Our project promotes a healthy, active lifestyle," said first-year student Tom Hands from Cambridge, England. "Plus, it is good for the environment and will promote bike safety in the Drake Neighborhood."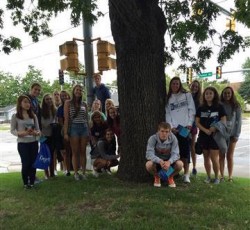 The class also discovered in its research that some people were afraid to bicycle in Des Moines because of safety concerns. Safety courses for bicyclists and motorists would help foster safe sharing of the road. Proposed secure storage spaces would protect bicycles on campus, especially during inclement weather and university breaks.
First Year Seminar instructor Erin Hurley Smith, adjunct professor of journalism, said she knows Greater Des Moines has an interest in keeping students here after they graduate. Making Drake more bike-friendly will give more students an opportunity to connect with the community before they graduate, increasing the likelihood they'll choose to live and work here.
"This grant would ensure a class project makes real impact on the Drake and Des Moines communities," Smith said. "Not only will this benefit the Drake community, but it is also providing valuable experiential service learning opportunities."
The proposed project is being considered by a new Wellmark Foundation grant program called the Community Kickstarter Grants. Subject to restrictions, The Wellmark Foundation will award 35 grants up to $10,000 per proposal that improve community health. The environmental factors of the community in which that person lives, works, learns and plays can greatly impact a person's behavior. Therefore, The Wellmark Foundation is looking to award grants to projects that are able to demonstrate a long-lasting impact on making the healthy choice the easy choice and improving overall community health and wellness.
The Wellmark Foundation will consider four criteria when making its selection. It will evaluate timeliness of the project. Projects with a more immediate impact may be given priority to demonstrate and share project success. The Foundation will consider geographic location of the community impact by the project, ensuring funds are distributed broadly across Iowa and South Dakota. The Foundation will also consider if a project has been awarded other grant funding.
Finally, the Foundation will consider the total number of public votes cast for a project, which indicates popular support within the community. Public voting is open now until October 7. The public can submit one vote per day. You can review the official rules here.
Vote here once a day until Wednesday, Oct. 7.
The Wellmark Foundation will announce winners on November 9.