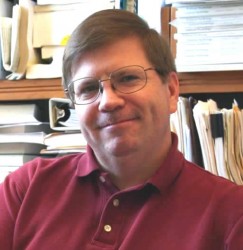 Drake University, a capital of political events and expertise leading into Iowa's first-in-the-nation caucuses, has deepened its pool of campaign experts. Drake's Harkin Institute for Public Policy and Citizen Engagement recently added Rutgers University political science professor David Redlawsk as its Drake Mabry Fellow.
Redlawsk will draw on his considerable knowledge as director of the Eagleton Center for Public Interest Polling and co-author of "The Positive Case for Negative Campaigning" (2014) and "Why Iowa? How Caucuses and Sequential Elections Improve the Presidential Nominating Process" (2010) to enhance campaign commentary and analysis in the state of Iowa.
Redlawsk's research focuses on campaigns, elections, the role of information in voter decision-making, and emotional responses to campaign information. He previously taught at the University of Iowa, in Iowa City, from 1999 through 2009, where he founded the Hawkeye Poll.
Redlawsk will spend the fall semester in Des Moines, conducting new research on the caucuses and contributing to the Iowa Caucus Project blog, www.iowacaucusproject.org.
"We look forward to collaborating with David as he conducts research during the coming months," said Rachel Paine Caufield, associate director for citizen engagement at the Harkin Institute. "He has a wealth of knowledge about Iowa's caucuses, and we're excited he is bringing it to Drake during the 2016 campaign season."
The Drake Mabry Fellowship is funded by an anonymous donor in honor of Drake Mabry, an Iowa native who was a reporter from 1954 to 1984, first at The Des Moines Tribune and later at The Des Moines Register. Mabry, who died in 2013, was named for his distant relative Francis Marion Drake, a one-time governor of Iowa and founder and benefactor of Drake University.