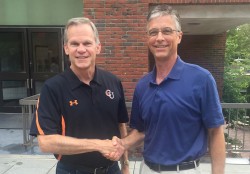 The presidents of Drake University and Campbell University have forged a high-"steaks" agreement in advance of their teams' gridiron matchup on Saturday, Oct. 3.
If Drake's Bulldogs emerge triumphant, Campbell University President J. Bradley Creed will fork over 5 pounds of Eastern North Carolina barbecue. If the Fighting Camels win, Drake University President Marty Martin will come through with eight Iowa Chops—which Martin described as a "seriously thick and succulent chop."
The two leaders, who took office at their respective universities on July 1, met this summer at a Harvard University seminar for new presidents. They quickly became friends and bonded over a love of barbecue; before they knew it, they were sealing their agreement with a jovial handshake.
"Even though Bulldogs give up a little in height to Camels, our lower center of gravity combined with our tenaciousness should get us over the hump," Martin predicted. "Putting a second check in the Pioneer Conference win column will make Brad's gift of BBQ that much more tasty."
Campbell University shared the news Monday via Facebook:
President Martin issued a confident tweet on Tuesday:
Dear @CampbellEdu President Brad: I look forward to that North Carolina BBQ http://t.co/oml8jrH4pt

— Drake President (@drakepresident) September 29, 2015

Kickoff is scheduled for 5 p.m. CST in Buies Creek, N.C. It's anybody's game, but it's safe to say the winner will be high on the hog.