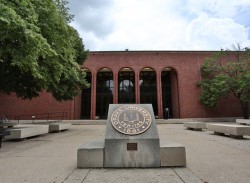 Cowles Library at Drake University will serve as the venue for a CNN voter focus group in conjunction with the network's Republican Presidential Primary Candidates Debate on September 16.
A panel of 40 likely Iowa Republican caucus-goers will provide their feedback on the candidates' performances during the debate, which is sanctioned by the Republican National Committee and will feature all of the leading candidates seeking the Republican presidential nomination.
Randi Kaye, anchor and correspondent for CNN's Anderson Cooper 360, will moderate the focus group from the Cowles Library Reading Room, a picturesque space lined with bookshelves and high arching windows. The network plans to hire 10 Drake University students to help orchestrate the event.
"CNN's partnership with Drake University strengthens the university's reputation as capital of the Iowa caucuses—a hub for political engagement and civil dialogue in a state that is of paramount importance to the presidential election process," said Drake University President Marty Martin.
The debate will be moderated by CNN's Jake Tapper and will take place at the Ronald Reagan Presidential Library in Simi Valley, California. It will be held in two parts, airing on CNN at 5 p.m. and 7 p.m. CST. Portions of the Iowa focus group will be aired immediately following the debate and in the days following the debate.
The focus group is the most recent in a rapidly growing set of political events that ensure millions of eyes will be on Drake University throughout the campaign cycle.
Drake is set to host a nationally televised presidential debate among Democratic candidates on November 14. That debate, hosted by CBS News and KCCI in conjunction with The Des Moines Register, is the Democratic National Committee's only sanctioned presidential candidate debate in Iowa prior to the state's first-in-the-nation caucuses on February 1.
In addition, Drake will host a pair of presidential candidate forums focused on issues of concern to minorities. The Brown and Black forum for Republican presidential candidates will be held Dec. 3, and the Brown and Black Forum for Democratic presidential candidates will be held Jan. 11, both in Sheslow Auditorium.