Pharmacists wear many hats—medical professional, patient counselor, researcher, trainer, record keeper, compliance expert, manager, and more. The list of hats worn by U.S. Coast Guard Commander Aaron Middlekauff, Pharm.D., PH'01, is even more extensive: active duty service member, coordinator and leader of field operations, and disaster planner. As chief pharmacy consultant for the U.S. Coast Guard Pharmacy Program, he's the top pharmacist in the entire branch, and the right-hand person to the Coast Guard equivalent of the Surgeon General.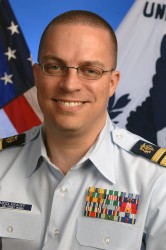 In this role, Middlekauff serves as the pharmacy adviser to Coast Guard leadership, collaborates with fellow service pharmacy consultants, provides direction to field operations, and also serves as the Coast Guard's HIPAA and population health service representative. Coast Guard pharmacists also take on a second role as U.S. Public Health Service (PHS) officers.
"Pharmacy officers in the PHS are positioned throughout the U.S. Department of Health and Human Services and in other federal agencies and programs," says Middlekauff. "They're caring for patients; reviewing, approving, and monitoring new drugs; and conducting research and assisting in public health emergencies. Most recently we deployed to support the Ebola relief efforts in Liberia. Historically our service has fought yellow fever, cholera, and plague in the early 20th century."
Middlekauff has served in Texas, Japan, Saudi Arabia, Colorado, Alaska, Florida, and now Washington, D.C. It's a career trajectory that was launched when he enlisted in the U.S. Air Force in high school, and brought to fruition on Drake's campus as he served in the ROTC program while pursuing his Pharm.D. He says his education at Drake brought him the knowledge, connections, and opportunities he needed to succeed—as well as a life-changing introduction.
"Probably the finest preparation in meeting life's challenges included meeting my wife, Jane, during our second year when we were assigned together to a compliance project in [Assistant Professor of Pharmacy Emerita] Avis Shuck's class," he says. "We've been happily married for 17 years, and I am forever grateful for Avis' matchmaking."
Middlekauff's wife, Lt. Jane McLaughlin-Middlekauff, PH'01, is also a pharmacist serving the U.S. PHS. Their adventures together began as they served clinics in Alaska, where their two daughters were born; continued in Miami (him at the U.S. Coast Guard Air Station Miami, her at Nova Southeastern University as a pharmacy professor) and now has brought them to the nation's capital, where Cmdr. Middlekauff assumed his current position in March 2015.
Today, Middlekauff leads 15 pharmacists stationed throughout the country to oversee 42 clinics from Alaska to Puerto Rico. They treat more than 42,000 active-duty members and 7,900 reservists.
"The mantra that motivates me was best stated by one of my mentors: 'All thrust, no vector?'" says Middlekauff. "I'm humbled by the opportunity to motivate, lead, and be part of effective solutions … while being challenged to make a difference and bloom where planted."