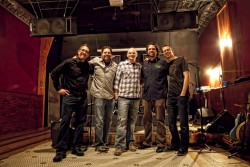 Three musical groups comprised of Drake University students and faculty members will perform a benefit concert in support of literacy education.
The all-ages concert will be held from 5 to 9 p.m. Friday, Sept. 18, at Lefty's Live Music, 2307 University Ave. Proceeds from the $5 cover charge will benefit the Adult Literacy Center, which pairs volunteer tutors with adults who need assistance with reading, writing, and comprehending English. This event hopes to raise awareness about the hidden issue of adults with low literacy skills as part of National Adult Education Family Literacy Week, Sept. 19-25.
The lineup includes a student jazz quintet and two faculty-led bands. Organizers hope the early showtime will draw many students, faculty, and staff members to Lefty's, a 350-capacity venue that opened in Dogtown over the summer.
"The early, happy-hour show time makes it easy for everyone to come out, show their support for a very worthy cause, and welcome Lefty's to the neighborhood," said Tom Buckmiller, who performs in the band One Hundred Mondays alongside fellow Drake University School of Education professors Michael Couvillon, Jerrid Kruse, and Matt Hayden.
The other faculty-led group, which changes its name for every performance, includes Kirk Nelson, director of the Chinese Cultural Exchange Program; Charlie Nelson, associate professor of physics and astronomy; and Tim Knepper, professor of philosophy.
The Adult Literacy Center was established in 1976 as part of the Drake University School of Education. In 2014, the Center became part of the Office of Community Engagement and Service-Learning. The center is located in the School of Education building, 3206 University Ave., and serves more than 100 adults each year.
Tutors are volunteers who meet for one or two hours a week in one-to-one sessions at the Adult Literacy Center or in public libraries. Visit www.drake.edu/adultliteracycenter for more information.