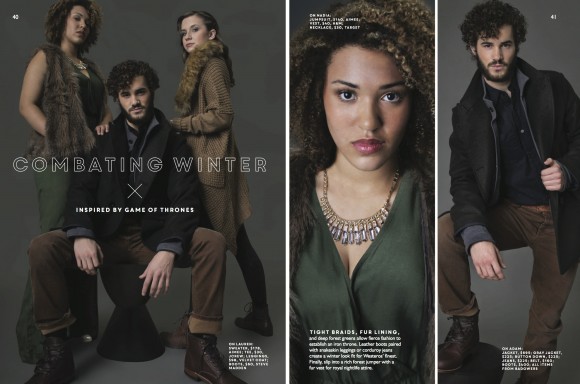 Awash in awards
Several Drake JMC students and recent graduates are finalists in two major national contests that honor the best of collegiate journalism. The slew of recognitions, from the Associated Collegiate Press and College Media Association, recognize reporting and writing, multimedia, design, photography and video. Read the full story.
SJMC alums nominated for Emmys
SJMC faculty counted 21 Drake alums among the nominees in the National Academy of Television Arts and Sciences' 2015 Midwest Regional Emmy Awards.  Winners will be announced at a gala in Minneapolis in October.
JMC student runs @OnPaintedStreet this week
Hope Waggoner, a senior majoring in advertising and public relations, is tending Drake's student-run @OnPaintedStreet Instagram account this week.
Need to drop a class?
Sept. 14 is the last day to do so without a "withdrawal" on your transcript.
SJMC work-study positions available
SJMC administrative assistant Shari Tenney (shari.tenney@drake.edu) is looking for students to staff the School's electronic media checkout. See Shari in Mer. 118 for an application form.
We Make Drake: Results of campus climate survey
The findings of the Drake Campus Climate Assessment from last spring will be presented this month. Mark your calendars to attend one of the campus conversations and make a difference in your community:
Monday, Sept. 21, 7 p.m. 
Tuesday, Sept. 22, 3:30 p.m.
Sussman Theater, Olmsted Center
Reminder about ad networking event
The Executive Board of the American Advertising Federation of Des Moines is hosting a welcome evening on Wednesday, Sept. 9, 6:30-8 p.m. in Mer. 124B. The event is a professional welcome and networking opportunity for Drake Advertising majors, minors, and all students interested in mass communications.  Speaker Danny Beyer will talk about the value of networking and how to approach professionals.  The AAF Board will also premiere the details for the GRIT Student Event of 2015.
Follow your SJMC faculty on Twitter
Submit items for the Memo
The Monday Memo is the place to go every week for news about upcoming SJMC events, head's up on student records deadlines, career development events and internships, plus the latest on student awards and what's going on around Meredith Hall. If you have an item you'd like to share through the Monday Memo, submit to Dean Kathleen Richardson (kathleen.richardson@drake.edu) by the Thursday before publication.