Of the more than 2.5 million military veterans who served in Operations Iraqi Freedom and Enduring Freedom, as many as 20 percent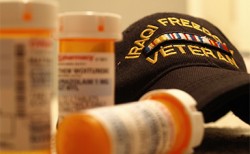 will experience post-traumatic stress disorder. Research indicates that many of these veterans use marijuana to self-treat their PTSD symptoms, often reporting reduction in anxiety and insomnia and an overall improvement in their ability to cope with the disorder.
But how effective is cannabis, from a medical perspective, in treating PTSD? And should health care providers be permitted to prescribe it to veterans? A new article by three recent Drake alumni provides a solid basis for what we know—and don't know—about this controversial issue.
The article, published in the August 1 issue of the American Journal of Health-System Pharmacy, reviews and summarizes 11 recent studies of the effects of cannabis on PTSD symptoms among military veterans. Co-authors Kevin Betthauser, Jeffrey Pilz, and Laura Vollmer, who received Doctor of Pharmacy degrees from Drake in May 2015, conclude more research is needed before solid clinical recommendations can be made.
"There's really not a whole lot of objective evidence to either support or refute the use of medical marijuana or synthetic cannabinoids in PTSD patients," says Betthauser. "There may be some promise, but we can't make a confident clinical recommendation."
The article began as a group project for Professor of Pharmacy Administration Chuck Phillips' course on advanced literature review.
At the time, Vollmer held a public policy internship for an Iowa state representative. The State of Iowa was weighing new legislation that eventually green-lighted the use of cannabis oil for treatment of epilepsy, and one of Vollmer's tasks was to review research that could inform policymaking decisions.
Betthauser had interned for three years with the VA Central Iowa Health Care System, where he counseled patients on medications, filled prescriptions at inpatient and outpatient pharmacies, and aided pharmacists in dosing medication and researching drug information.
They combined their interests and found compelling grounds for further research.
"In total there are about 5.8 million veterans who are affected by [PTSD], and there are not a lot of medical options available for them," says Vollmer. "At the same time policymakers haven't had access to a concise summary of the research that's out there. We thought it would be worth looking into."
Many of the studies reviewed by Betthauser, Pilz, and Vollmer were limited by small sample sizes that restricted the universality of their findings. Cost, control, and legality are significant obstacles for researchers who seek to conduct reliable studies involving medical marijuana, particularly among combat veterans.
It's difficult to recruit a sizable, randomized sample of participants—and then there's also the issue of defining objective results.
"If you're asking me, 'Kevin, are your hallucinations or nightmares getting better?' my definition of better may not be the same as yours," says Betthauser. "There's some subjectivity in that."
Although the three co-authors said they have no clinical perspective on whether medical marijuana should be made available to veterans, Vollmer said she understands why some PTSD sufferers turn to cannabis.
"I think people are choosing marijuana because they feel they have run out of options," she says. "When it comes down to it, if you're having trouble living life normally and you can't put up with [your symptoms] anymore, you're going to do what you can to make yourself feel better, regardless of the legal factor."
—
Kevin Betthauser, Jeffrey Pillz, and Laura Vollmer are all pursuing residencies following their graduation from Drake University. Betthauser is at Barnes-Jewish Hospital in St. Louis; Pilz is in a dual residency at the University of Kansas Hospital; and Vollmer is at the University of Minnesota Medical Center.