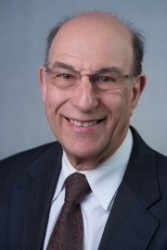 It's been a year since unarmed 18-year-old Michael Brown was shot and killed by a policeman in Ferguson, Mo., and the ripples of that event are still being felt in protests across the country.
But the unrest in Ferguson—and Baltimore, Staten Island, Cleveland, and Cincinnati—has roots in governmental policies and programs that began decades ago, according to Richard Rothstein, a research associate of the Economic Policy Institute in Washington, D.C.
On Thursday, Sept. 3, Rothstein will deliver a free public lecture to a sold-out audience at Drake University to examine how 100 years of policy choices have segregated American metropolitan areas and perpetuated an environment of poverty and racial polarization.
"Beyond the Invisible Fence: The Making of Ferguson and Baltimore" will begin at 7 p.m. on Thursday, Sept. 3, in Sussman Theater in the lower level of Olmsted Center on Drake University's campus, 2875 University Ave. The lecture, hosted by the Harkin Institute for Public Policy and Citizen Engagement at Drake University, is the fourth installment of the Sussman Lecture Series.
Rothstein will draw from his recent article, "The Making of Ferguson: Public Policies at the Root of its Troubles," to examine the causes of today's conflicts and discuss strategies to help reverse the legacies of government policy promoting inequality.
There is no cost to attend, but tickets are required and the event is filled to capacity. Visit www.drake.edu/harkininstitute to join the wait list and sign up for information on future events.
Established by Richard Sussman, AS'51, and his late wife Lila, the Sussman Lecture Series is held twice a year and invites notable public policy figures to discuss topical current events with a small audience. "The Sussman Lecture Series was created to engage students and the public in issues of contemporary importance," said Harkin Institute director Marsha Ternus. "Iowans' overwhelming response to Mr. Rothstein's lecture shows that the Sussmans' vision is being achieved."
Past speakers in the Sussman Lecture Series include Scott Shane, national security reporter for The New York Times; Celine Cousteau, French explorer, education ambassador, and documentary filmmaker; and Darrell West, founding director of the Center for Technology Innovation at the Brookings Institution.
The Harkin Institute for Public Policy and Citizen Engagement at Drake University is dedicated to the study of issues that define our public life and to engaging students and citizens in constructive dialogue regarding these issues. The Institute seeks to create opportunities for thoughtful policy discourse in a nonpartisan environment.