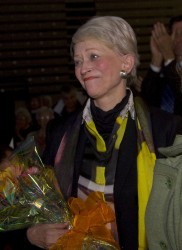 Melva Bucksbaum, a dedicated philanthropist who helped to establish Drake University's largest and most well-known lecture series, died last weekend. She was 82 years old.
Melva Bucksbaum and her husband Martin, a longtime member of Drake's governing board, established the Martin Bucksbaum Distinguished Lecture Series through a generous gift to the university. The series—named in honor of Martin, who died in 1995—brings speakers of international stature to Drake's campus to deliver a major address on issues including business, health, the arts, and international affairs.
More recently the Bucksbaum family—including Melva and Martin's daughter, 1991 Drake alumna Mary Bucksbaum Scanlan—made a significant gift to the distinctlyDrake fundraising campaign in support of executive education and professional development at Drake. The gift will fortify the Executive Education Center's status as the region's leading option for professional development; it will also advance the Bucksbaum Lecture Series as the preeminent intellectual event in central Iowa through a new lecture series focused on business and entrepreneurship.
"Melva Bucksbaum was widely loved and respected, and everyone who worked with her appreciated her passion for the Drake and Des Moines community," said Drake Law School Professor Neil Hamilton, chair of the Bucksbaum Lecture Series Committee. "She will certainly be missed, but we will continue to draw inspiration from her vision and leadership."
Melva Bucksbaum was known worldwide as a generous philanthropist with a particular passion for contemporary art. She served as a trustee of New York's Whitney Museum of American Art; the governing boards of the Jewish Museum and the Drawing Center, both in New York; and the Hirshhorn Museum and Sculpture Garden in Washington, D.C.
Since its inception, the Martin Bucksbaum Distinguished Lecture series has hosted 34 of the world's most influential speakers, including President Jimmy and Rosalyn Carter, astrophysicist Neil deGrasse Tyson, poet Maya Angelou, musician Wynton Marsalis, and most recently, National Public Radio Correspondent Nina Totenberg. Every lecture is preceded by a private Q&A session between the speaker and a small group of Drake students—an intimate feature that reflects the Bucksbaums' commitment to education.
In fall 2014, the Drake community presented Melva Bucksbaum a hardbound book that captured the tremendous impact of the lectureship. Dozens of faculty, staff members, students, alumni, and friends of Drake contributed their memories and thanks.
"I have been attending the Bucksbaum lectures for more than ten years now, since I was a student, and they have served as an amazing opportunity to listen, to learn, and to experience so many individuals and exchanges I would never have thought I would have here in Des Moines," Jennifer Zwagerman, a 2004 Drake Law School alumna, said in the book. "I always look forward to the next in the series because I know that whomever is chosen will help expand my world and my mind."
Speakers in the Martin Bucksbaum Distinguished Lecture Series
Peter J. Neufeld
October 27, 2015 (upcoming)
Nina Totenberg
March 12, 2015
Tim Gunn
Sept. 17, 2014
Walter Isaacson
Nov. 21, 2013
Neil DeGrasse Tyson
Oct. 29, 2013
James Balog
April 3, 2013
Jimmy and Rosalynn Carter
Sept. 13, 2012
Twyla Tharp
"An Evening with Twyla Tharp"
April 4, 2011
Azar Nafisi
"The Republic of the Imagination"
October 27, 2010
Dr. Maya Angelou
"An Evening with Maya Angelou"
October 8, 2009
Bill Bryson
"You can go Home Again"
April 2, 2009
Thomas R. Pickering
October 10, 2008
Erik Peterson
April 9, 2008
Nicholas Kristof
September 25, 2007
Bob Costas
April 19, 2007
Ben Cohen and Jerry Greenfield
"An Evening of Social Responsibility, Radical Business Philosophy and Free Dessert for All"
October 3, 2006
David Chipperfield
April 6, 2006
Dr. Jane Goodall
"Reasons for Hope "
September 22, 2005
Tim Russert
"Washington From the Inside Out"
April 26, 2005
Sarah Jones
"Waking the American Dream"
October 6, 2004
Salman Rushdie
"Step Across This Line"
March 30, 2004
Wynton Marsalis
"Leadership: The Creative Process" & Concert
October 22, 2003
Michael Beschloss
"Democracy in a Time of Crisis"
April 15, 2003
Earvin 'Magic' Johnson
"A Perspective on Living with HIV"
December 3, 2002
Ken Burns
"American Lives: Mark Twain, Frank Lloyd Wright and More"
April 10, 2002
Bill Moyers
"The Aftermath of September 11"
Joined by Martin E. Marty, Moderated by James A. Autry.
November 12, 2001
Martin Marty & Archbishop Rembert Weakland
"The Situation of Pluralism: Catholic Faith, Other Christian Faiths, and the Faith of Non-Christians"
March 28, 2001
Marian Wright Edelman
"By What Shall We Live?"
March 8, 2000
Senator Paul Simon
"Changing Places: Higher Education's Changing Responsibilities at the Turn of the Millennium"
October 19, 1999
Doris Kearns Goodwin
"The Moral Authority of the Presidency"
March 17, 1999
David McCullough
"History as a Source of Strength"
March 18, 1998
Ben Bradlee
"The Newspaper Business, Then and Now"
October 13, 1997
Thomas Friedman
March 12, 1997