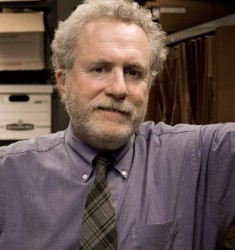 The co-founder of an organization that seeks to exonerate wrongly convicted inmates through DNA testing will deliver the 35th installment of the Martin Bucksbaum Distinguished Lecture Series at Drake University.
Peter Neufeld, co-founder of The Innocence Project, will deliver the free public lecture at 7 p.m. Tuesday, October 27, in the Drake University Knapp Center. Seating is general admission and tickets are not required.
The Innocence Project is a national non-profit organization that represents hundreds of inmates seeking post-conviction release through DNA testing and pursues institutional reform to identify and address the systemic causes of wrongful convictions.
More than 300 people have been exonerated by DNA testing in the United States, including 18 people who served time on death row. The Innocence Project's full-time staff attorneys provided direct representation or critical assistance in almost all of those cases, with the assistance of students at the Benjamin N. Cardozo School of Law at Yeshiva University. The wrongly convicted individuals served an average of 14 years in prison before exoneration and release.
"The increasing public attention to the issues of mandatory sentences and the nation's level of incarcerations make this an important time to hear more about the work of the Innocence Project," said Neil Hamilton, professor at Drake Law School. "The number of individuals the Project's lawyers have helped free from prison makes the group a key player in efforts to improve the justice system in the United States."
The Innocence Project advocates for more rigorous scientific validation of forensic procedures and other techniques routinely used by law enforcement outlets and prosecutors in criminal justice cases. Among the first 325 DNA-based exonerations in the United States, eyewitness misidentification was a contributing factor to wrongful convictions in 72 percent of cases. Unverifiable or improper forensics were a contributing factor in 47 percent of cases; false confessions in 27 percent of cases, and the use of informants in 15 percent of cases.
Philanthropist Melva Bucksbaum dies at age 82
Melva Bucksbaum, a dedicated philanthropist who helped to establish the Martin Bucksbaum Distinguished Lecture Series died at 82 years old. Read more here.
"For years, despite lacking a proper scientific foundation, many forensic practitioners have offered either unvalidated evidence or grossly exaggerated the value of the evidence, particularly in forensic disciplines that examined pattern, impression, and trace evidence, e.g. comparison of bite marks, shoe prints, bullets, and hair," Neufeld wrote in a March 30 op-ed to The New York Times. Other contributing factors include government misconduct and bad lawyering, according to the Project.
In addition to working to free wrongly convicted inmates, the Innocence Project also includes a policy department that works to pass laws and implement policies that prevent wrongful conviction; a strategic litigation department that works to improve case law through targeted legal work; and a social work department that supports exonerees as they rebuild their lives post-release.
Neufeld is a partner in the New York civil rights law firm of Neufeld Scheck & Brustin, LLP, where he focuses on constitutional law and police misconduct. When not acting as primary counsel, Neufeld has provided pro bono services to dozens of lawyers representing the accused in death penalty cases. He has lectured and taught students, lawyers, judges, legislators, and scientists on subjects at the intersection of science and criminal justice. Before co-founding the Innocence Project, Neufeld taught trial advocacy at Fordham University Law School.