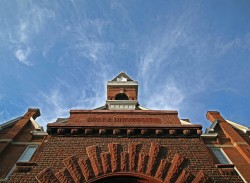 Note: As of Oct. 16, 2015, ticket information is not yet available for this event. Check back for updates.
Drake University and the Iowa Democratic Party will host a live, nationally televised debate among Democratic presidential candidates in Sheslow Auditorium on November 14, 2015. The event broadcast by CBS News and KCCI, in conjunction with The Des Moines Register, will be the Democratic National Committee's only sanctioned presidential candidate debate in Iowa prior to the state's first-in-the-nation caucuses on February 1.
"We are honored to again play a central role in the presidential election process," said Drake University President Earl F. Martin. "As Des Moines' largest private university we believe we have a core responsibility to promote civil dialogue and serve as a hub for civic and political engagement. From our location in Iowa's capital, we are proud to have developed a reputation as the capital of the Iowa caucuses."
The Drake University campus has become a fixture in the nation's presidential election process. The University has hosted at least one nationally televised presidential candidate debate during each presidential campaign cycle since 2007, extending Drake's visibility to millions of households across the country and around the world.
Additional details of the Nov. 14 debate, including time, ticket information, and moderators, are forthcoming from Drake, CBS News and the Democratic National Committee.
In addition, Drake is also set to host a pair of presidential candidate forums focused on issues of concern to minorities. The Brown and Black forum for Republican presidential candidates will be held Dec. 3, and the Brown and Black Forum for Democratic presidential candidates will be held Jan. 11, both in Sheslow Auditorium.
Drake students are among the chief beneficiaries of the campus' vibrant political environment—and opportunities aren't limited to students majoring in political science; law, politics, and society; journalism-related fields; and strategic political communications.
"Students of all fields of study have a rich diversity of opportunities to experience the political process in a variety of forms," said Associate Professor of Political Science Rachel Paine Caufield, director of Drake's Iowa Caucus Project. "Our students benefit from paid internships with national media outlets, personal meetings with candidates, interactions with hundreds of journalists, and prime seats to prime-time news events. We are excited about the opportunity to partner with CBS News, KCCI, and The Des Moines Register on this upcoming debate, and we look forward to a multitude of other opportunities that may arise this campaign season."