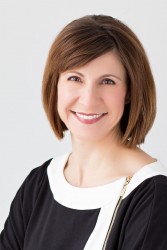 Drake University has hired the founder of a Des Moines communications company to lead the university's award-winning magazine media program.
Catherine M. Staub, CEO of Lexicon Content Marketing, will serve as the new Peggy Fisher and Larry Stelter Chair of Magazine Journalism in Drake's School of Journalism and Mass Communication. Staub will be responsible for directing Drake's nationally recognized magazine program and overseeing the E.T. Meredith Center for Magazine Studies.
"Catherine Staub is a highly respected communications professional with a strong foundation of traditional journalism skills, an entrepreneurial spirit, and keen business acumen," said Kathleen Richardson, dean of the School of Journalism and Mass Communication. "She will be a tremendous asset to the university."
Lexicon Content Marketing provides a range of editorial writing, marketing strategy, digital content production, graphic design, web design and photography services to clients including Hy-Vee, Inc., Life Care Services, and United Way of Central Iowa. Prior to launching the agency in 2003, Staub held positions with Meredith Corporation and Wells Fargo. She holds a bachelor's degree in English, a master's degree in journalism, and a doctoral degree in education from Drake.
Staub will tap into that breadth of experience as she teaches the next generation of communicators, who require a dynamic skillset in order to succeed in today's competitive media marketplace.
"The communication industry no longer exists in silos, with easy distinctions between print and digital, journalism and marketing, writer and multimedia content producer," Richardson said. "So we can't teach that way. We are constantly evolving our curriculum to ensure students graduate with new media skills, in addition to the fundamentals of writing, editing, research, design, creative and strategic thinking, and a solid ethical underpinning."
Staub will continue to provide strategic direction to Lexicon, in addition to her responsibilities with Drake. Her experience complements the expertise of the magazine media department's other faculty member, Jeff Inman, a freelance writer whose work has been published in Better Homes and Gardens, Rolling Stone, Billboard, Midwest Living, and other major outlets.
"It's an absolute honor for me to join Drake's School of Journalism and Mass Communication," Staub said. "The Drake magazine program has an outstanding reputation for excellence. In addition, it's an exciting time in magazine media that provides tremendous opportunities to be innovative and creative. I look forward to working with the talented and thoughtful Drake students, being an ambassador for the program, and contributing to the profession I love in this meaningful way."
The Drake magazine program is consistently recognized for innovation and excellence. For example, Urban-Plains.com—a multimedia website created by this spring's magazine, news and digital media seniors—was recently named top digital magazine in the country by the Association for Education in Journalism and Mass Communication. An Urban Plains webcast won a Telly Award and the site's design was recognized by the Art Director's Association of Iowa.
Drake collaborates with international media powerhouse Meredith Corporation on a distinctive paid apprenticeship program, in which Drake magazine and graphic design students work at Meredith's Des Moines headquarters. The magazine program has a 100% internship rate, with students working across the country for publications like GQ, People, Seventeen, and Inked Magazine, as well as organizations like Dwolla.
A powerful alumni network includes professionals at Seventeen, Glamour, Advertising Age, Better Homes and Gardens, RealSimple.com, Allstate Insurance, Target Corporation, Major League Baseball, Sony Music Entertainment, and other leading outlets and organizations.
In addition to magazine media, the School of Journalism and Mass Communication offers majors in news, digital media production, advertising, public relations and, starting this fall, a new program in strategic political communication. The graduate placement rate for Drake's SJMC was 100% in 2012 and 2014, and 99% in 2013.