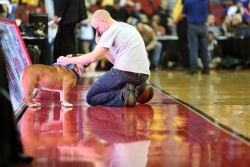 It seems like yesterday that Porterhouse's paws pattered across the Knapp Center court. All eyes in an at-capacity crowd stared as he stopped, sat, and stared into the eyes of co-owner Kevin Bell, LW'11. There was a moment of anticipation.
Then Bell released a basketball across the court, and Porterhouse dashed after it—with all the speed and agility a bulldog can muster. The crowd went wild.
Porterhouse carried that electricity with him everywhere he went. Alumni, students, fans, and friends embraced the confident, charming, four-legged Bulldog every time he visited a residence hall, strolled the downtown farmers market, eagerly welcomed hugs, patiently accepted ear tugs, and graciously posed for photo after photo.
"Students would drop what they were doing, run to meet him, get a kiss from Porterhouse," says Student Body President Kevin Maisto.
When Porterhouse passed away in December 2013, it seemed impossible that any Bulldog would ever fill his big paws. That any Bulldog could match the loyalty and spirit we all embraced in a live mascot. He showed us the power of a live mascot—a consummate ambassador who embodies and inspires the spirit that unites all Drake Bulldogs.
And while no canine can ever replace Porterhouse, Drake is on the cusp of unveiling another proud pooch to carry on his legacy. The University announced this spring that Porterhouse's co-owner, Erin Bell, would serve as an official Live Mascot Director to continue the program.
Since the announcement Drake has secured more than $40,000 in cash and in-kind gifts to provide veterinary care, food, and other continuous costs for the mascot. In addition, loyal Drake supporters Mary and Doug Bruce, BN'72, GR'89, have agreed to match all donations to the program, up to $40,000. In total, Drake is seeking $140,000 by September 1 to support the first three years of a sustainable live mascot program.
Soon, very soon, a new live mascot will follow Porterhouse's lead. A Bulldog-in-training is preparing to meet the Drake community.
"I think we have a great future in the mascot program," says Erin Bell. "And it's a really special opportunity to be able to continue what Porterhouse started."
Watch the video below and learn more at www.drake.edu/livemascot.