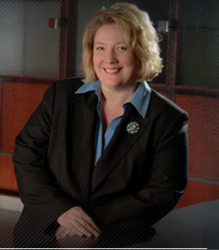 After several years instructing health care professionals about the intricacies of law as a faculty member at Des Moines University, Denise Hill, GR'95, JD'96, will shift to teaching law students about health care as the director of the new Health Law program at Drake Law School this fall. Hill earned her Master in Public Administration from the Drake University College of Business and Public Administration and her Juris Doctor from the Law School. As she returns to campus, Hill shares with us her experience in law, health care, the intersection of the two fields, and the importance of the Health Law program to students and the University.
Where did you develop an interest in Health Law?
My mentor from Drake Law School, health law attorney Jeanine Freeman, recruited me to work with her as in-house counsel at the Iowa Medical Society (IMS). It was during my seven years with IMS that I became enamored with health law, health policy, and ethics. My interest in health law was further deepened in 2002 when I started teaching the Health Law and Ethics and Public Health Law and Ethics courses as a part-time clinical professor at Des Moines University (DMU). I really enjoyed teaching professionals working in health care about law, policy, and ethics and in turn learned a great deal about the vast health care industry from students.
Tell us a little about your background in this area?
After leaving IMS I practiced health law; administrative law; Medicaid, special needs, and estate planning; and corporate law at two large law firms in Des Moines. Having received training on mediation and arbitration from both the American Health Lawyers Association and InterNational Academy of Dispute Resolution ADR, I have spent considerable time mediating health law oriented cases. I continue in my role as an of counsel attorney and mediator with the Whitfield & Eddy firm. This affords me special opportunities to remain current in the areas where I teach.
I joined the full-time faculty at DMU in 2007, where I served as the university's primary legal instructor with appointments to teach in the College of Medicine, College of Podiatric Medicine, and College of Health Sciences.
Why is Health Law an important area of study?
 The health care industry has a significant impact on federal, state, and local economies. As a complex, dynamic, and heavily-regulated industry, health care is a large consumer of legal services. Given the advent of historic heath reform and other far-reaching laws, it is more crucial than ever that attorneys and other stakeholders are prepared to navigate the ever-changing health care regulatory and liability environment. The result is an increased demand for attorneys and other professionals that understand health law.
What can you tell us about Drake Law's new Health Law program?
Drake Law School's Health Law Program focuses on all aspects of health law and prepares students to participate in and/or practice across all types of health care settings. There are four primary aspects of the program: a Health Law certificate, Masters of Jurisprudence (M.J.) in Health Law, Master of Laws (LL.M.) in Health Law ,; and Drake's active Health Law Club.
Drake's Health Law certificate is a special designation recognizing that a law (J.D.) student has completed a concentration of legal courses related to health care. In addition to gaining a basic understanding of the field of health law, students apply substantive areas of law they learned in the general J.D. curriculum (e.g. corporate law, employment law, contracts, or torts) to issues unique to the health care industry.
Drake's 28-credit Masters of Jurisprudence in Health Law is designed for working professionals from the health care industry who want to enhance their knowledge of legal, regulatory, and ethical issues involved in the delivery of health care. The entire degree can be completed in two years of part-time study.
The Master of Laws in Health Law is similar to the M.J. in Health Law program as described above, however, the LL.M. is designed to prepare lawyers to practice and/or specialize in health law. In that regard, there are advanced health law course offerings available to the LL.M. students.
What is the benefit of pursuing an M.J. in Health Law?
This degree is intended for professionals working in the health care field who need an enhanced understanding of the law but do not wish to practice law as an attorney. The Affordable Care Act and a multitude of other health care laws and regulations have exponentially increased the demand for individuals with specialized knowledge of health care and related laws. Students who have an M.J. in Health Care will not only make themselves more valuable to their organizations, but ultimately advance their own career opportunities.
How does it feel to return to Drake Law as a faculty member after earning both your J.D. and M.P.A. degrees from Drake?
I must admit that it is a sentimental journey to come back to Drake, the University that had such a marked impact on my career. A lot has changed on the campus and in how education is delivered since I was a student here. However, some things have not changed. For example, faculty members are not only experts in their content area but excellent instructors, too. Decisions ultimately center on what is best for our students—even if it means more work for faculty. Perhaps most importantly, I have witnessed talented Drake Law students and graduates take what they have learned in the classroom to positively affect Iowa and the globe.
What do you hope to bring to Drake Law as a faculty member?
My broad-based legal career has required that I address complex health care legal and ethical issues, represent a variety of individual and organizational clients, and collaborate with a diverse assortment of stakeholders. I also continue to practice health law, administrative law, and mediation as an of counsel attorney. This keeps me abreast of current health law and provides networking opportunities for students and the overall health law program. I will continue to bring all that I learn to the classroom.
You could say teaching is in my blood, as both of my parents were educators. I am an experienced educator and have worked to continuously craft and update the courses I teach, improve my teaching methodologies, embrace technology, and fairly assess student learning.
At DMU I worked in a competency-based curriculum and I hope to follow a similar approach to the Health Law courses I teach. I have taught in person, online, and in blended delivery formats for years. In that process I have successfully utilized student learning community teams and developed simulations designed to help students make the jump from theory to practice. Since I am coming from a medical and health sciences university, I feel that I bring unique perspectives on health care, teaching, and learning.
Finally, I hope to contribute to service and scholarship and build on the partnerships and health law collaborations that I established at Drake before joining the faculty full-time.
What are your interests outside of teaching?
I enjoy spending time with and attending various events with my husband and three children. I love to travel, participate in water-based exercise, and writing fiction.
Are you a dog person or a cat person? Why?
I like both but my oldest son has a severe cat allergy so we have always had dogs. We enjoy our little black Yorkie-Poo Riley.
Visit the Drake Health Law webpage to learn more about Denise Hill and the Health Law program.