Sammons Enterprises, Inc., parent company of Des Moines-based Sammons Financial Group, has donated $1 million to Drake University for the Sammons Endowed Professorship in Actuarial Science, a program that supports a new or existing professor of actuarial science and will be used to retain or attract outstanding faculty members.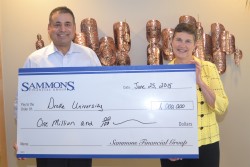 "Actuaries are critical to our success as an insurance company," said Esfand Dinshaw, president, Sammons Enterprises Inc. and chairman and chief executive officer for Sammons Financial Group. "Drake University offers one of the best actuarial programs in the United States and we are proud to provide support that will help ensure that their program continues offering the highest quality of education for the next generation of actuaries."
Drake's actuarial science program combines traditional math and statistics courses with a solid foundation in business. Every undergraduate student within Drake University's College of Business and Public Administration completes at least one professional work experience prior to graduation; 98.8 percent of the college's bachelor degree recipients in 2013-14 held full-time employment or had enrolled in graduate school within six months of graduation.
"Actuarial Science is one of our flagship programs, attracting talented students from around the world. This wonderful gift from Sammons will support our ability to continue a tradition of excellence," said Therese M. Vaughan, dean of the College of Business and Public Administration at Drake University.
Drake is one of 16 universities in the United States to be recognized as a Center for Actuarial Excellence by the Society of Actuaries and is one of the few private university actuarial science programs in the Midwest with a full set of actuarial science courses taught by actuaries.
Sammons Enterprises, headquartered in Dallas, Texas, is a diverse holding company composed of financial services, industrial equipment, and real estate investment businesses operating in five countries.