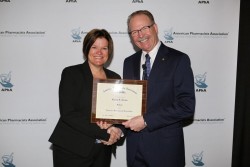 Drake University College of Pharmacy and Health Sciences Assistant Dean for Clinical Affairs and Director of Experiential Education Cheryl Clarke, PH'86, was recently selected as a Fellow of the American Pharmacists Association (APhA)
Candidates for APhA Fellow must have at least 10 years of experience and achievements in professional pharmacy practice and outstanding service in the profession through activities in APhA and other organizations. Clarke was recognized at the APhA Annual Meeting and Exposition in San Diego, California, March 27-30, 2015.
Before joining the Drake CPHS faculty in 2009, Clarke was Senior Program Manager for The Wellmark Foundation, Senior Vice President of Professional and Public Affairs for the Iowa Pharmacy Association, and Senior Manager of Professional Services for Medicap Pharmacies, Inc. Today, Clarke is an associate professor of pharmacy practice, where her teaching and scholarship interests include patient safety, healthcare quality, community health education, social determinants of health, and experiential education.
"This honor recognizes Professor Clarke's outstanding contributions to the pharmacy profession and APhA," said interim dean of the College of Pharmacy and Health Sciences Renae Chesnut. "As an alumnae and current faculty member, she is a role model for collegiality, professionalism, and collaboration, values that are core in the culture of our community of learners ."
Current Drake University CPHS faculty who are APhA fellows and the year of their appointment:
John Rovers, 2008
Carrie Koenigsfeld, 2011
Cheryl Clarke, 2015